| | |
| --- | --- |
| ČESKÁ REPUBLIKA | CZECH REPUBLIC |
| Vysočina | Highlands (Jihlava) region |
| Okres: Havlíčkův Brod | |
map →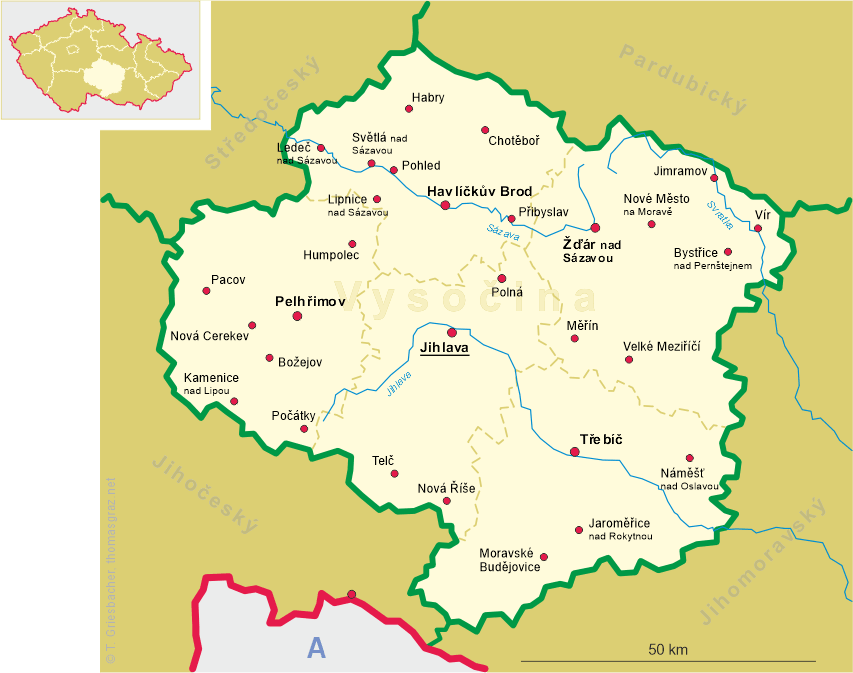 Chotěboř
• lt: Choteboržas
• de: Chotieborsch
• lv: Hoteborža
• bg, ru: Хотеборж
• sr: Хотјеборж
Chotěboř is situated at an elevation of 515 m on the river Doubrava in the northeast of the Vysočina (Highlands) region of the Czech Republic, about 14 km northeast of the district town Havlíčkův Brod. The municipality has a population of about 9,250 (2019).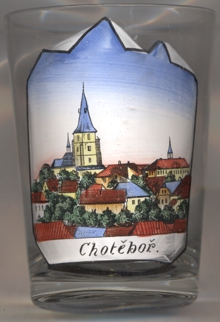 The earliest known mention in a written document dates from 1265, when it was mentioned as a place where silver was mined. It was given the status of a Royal Czech town in 1278 and in 1331. During the Hussite wars Chotěboř was conquered by the Hussites in 1421. However, soon after this, the town was besieged by the Catholic troops and the Hussites were forced to surrender. Three hundred of the Hussites were burned at the stake, their captain was executed at Chrudim. As a retaliation, the Hussites burnt down the monastery of Vilémov u Golčova Jeníkova. Since 1836 the domains were in possession of the counts Dobrženský von Dobrženitz (Dobřenští z Dobřenic). The family was dispossessed in 1948 but the castle and the agricultural properties were restituted in 1992.
The

church of Saint James the Greater [far left, no. 0000, and near left, no. 4122: background left] was built on the site of a Romanesque chapel from the 12th century, which was older than the town. The church was rebuilt many times after frequent fires. It was remodeled in Gothic revical style in 1894–1895.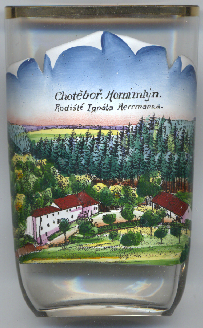 Horní Mlýn ('Upper Mill') [near left, no. 3969] was the birthplace of the Czech novelist, satirist and editor Ignát Herrmann. The glass in this collection is a souvenir commemorating this fact as it is labeled Hornímlýn / Rodiště Ignáta Herrmanna ('Upper mill; birthplace of Ignát Herrmann').

[https://de.wikipedia.org/wiki/Chot%C4%9Bbo%C5%99, https://cs.wikipedia.org/wiki/Chot%C4%9Bbo%C5%99; https://en.wikipedia.org/wiki/Chot%C4%9Bbo%C5%99; https://en.wikipedia.org/wiki/Ign%C3%A1t_Herrmann]

---