| | |
| --- | --- |
| ČESKÁ REPUBLIKA | CZECH REPUBLIC |
| Pardubický kraj | Pardubice region |
| Okres: Pardubice | |
map →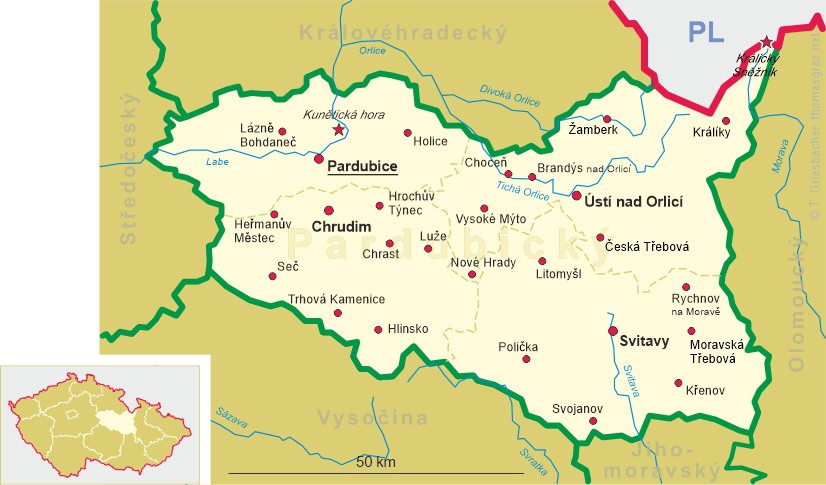 Kunětická hora
• de: Kunietitzer Berg
Kunětická hora (German: Kunietitzer Berg, Kunětice Mountain) is located about 6 km north-northeast of Pardubice. Below the mountain, to its south-east, lies the village of Kunětice. The mountain itself is within the cadastral district of the municipality Ráby.
The mountain sits in a plain, above which it rises 82 meters (305 m above sea level). Geologically, the mountain is a laccolith, dating from the Cenozoic era. Toward the end of the 19th century, the slopes of the mountain were used as a quarry, at such a pace that the mountain was in danger of disappearing.

Kunětická hora castle is situated on the top of Kunětická hora. It is said to have been founded already in the mid-9th century. According to other records, a castle of the Knights Templar stood on the mountain in the 13th century, which fell to the Bohemian Chamber when the order was dissolved in 1307. Archaeological studies have shown that since the second half of the 14th century at the latest, a relatively large castle complex with two towers and a palace as well as an extensive outer bailey had existed on the mountain. In 1491 it was bought by Vilém of Pernštejn (Vilém z Pernštejna), who ordered the castle rebuilt in late Gothic style, with two towers and a moat. The construction was continued by Vilém's sons in early Renaissance style. During the Thirty Years' War (1618–1648), the castle was besieged several times; at the end of the war Swedish troops burned it to the ground. The castle remained a ruin until the early 20th century, when the Pardubice Museum Society was formed. The group purchased the site in 1919 and began reconstruction in 1923, according to the plans of architect Dušan Jurkovic. The rebuilding was completed in 1996. Today the castle is open to the public as a museum. On display are surviving murals, including a 1523 work depicting Samson and Delilah, the oldest known Renaissance mural in Bohemia. The castle also hosts occasional music or theatrical performances. The mountain and castle form a popular weekend destination for people living nearby.

[https://en.wikipedia.org/wiki/Kun%C4%9Btice_Mountain; https://en.wikipedia.org/wiki/Kun%C4%9Btice_Mountain_Castle, https://de.wikipedia.org/wiki/Burg_Kun%C4%9Btick%C3%A1_Hora]

---