| | |
| --- | --- |
| SCHWEIZ / SUISSE / SVIZZERA / SVIZRA | SWITZERLAND |
| Bern / Berne / Berna / Berna | |
map →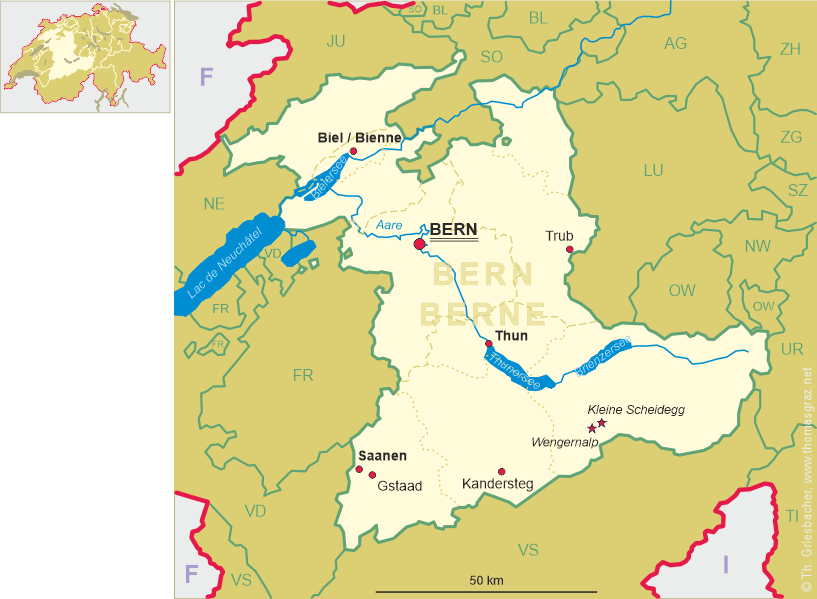 Wengernalp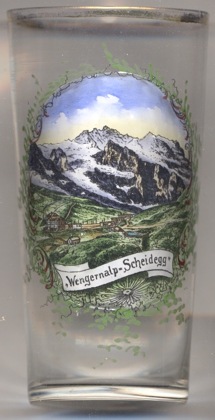 The Wengernalp is a shieling at an elevation of about 1,870 m between Wengen (elevation 1,274 m) and the mountain pass Kleine Scheidegg (2,061 m) in the Swiss canton Bern. The narrow-gauge mountain railroad Wengernalpbahn was constructed in 1890–1893. The original tracks had an incline of up to 25% and had to be closed during the winter period. A new track, which had a maximum incline of 18% and included numerous tunnels, opened in 1910. The old track remained in use for freight traffic and empty trains until 2007. Parts of the line were dismantled in 2009.
The

Hôtel de la Jungfrau [foreground, far left, barely visible] opened in 1841. After a fire it was rebuilt in 1865. Amongst the many historical, famous people who have spent holidays on the Wengernalp are Felix Mendelssohn Bartholdy, Richard Wagner and Pyotr Ilyich Tchaikovsky.
Glass no. 4124 [left] shows a view of both the Wengernalp the mountain pass Kleine Scheidegg just above it.

[https://de.wikipedia.org/wiki/Wengernalp, https://en.wikipedia.org/wiki/Wengernalp; https://de.wikipedia.org/wiki/Wengen_BE; https://de.wikipedia.org/wiki/Kleine_Scheidegg; https://de.wikipedia.org/wiki/Wengernalpbahn]

---