| | |
| --- | --- |
| ČESKÁ REPUBLIKA | CZECH REPUBLIC |
| Královéhradecký kraj | Hradec Králové region |
| Okres: Trutnov | |
map →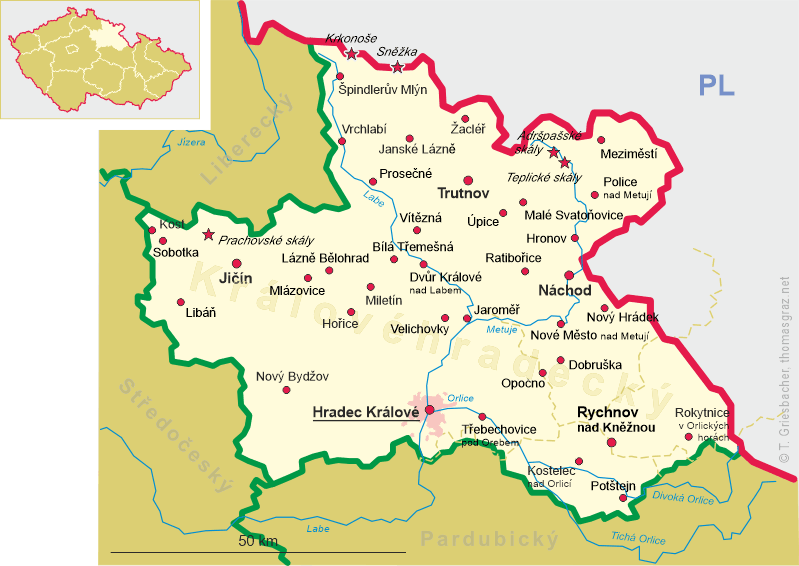 Dvůr Králové nad Labem
• lv: Dvūr Kralovė prie Labės
• lt: Dvūra Krālove pie Labas
• de: Königinhof an der Elbe
• el: Ντβουρ Κράλοβε ναντ Λάμπεμ
• be: Двур-Кралавэ-над-Лабэм
• mk: Двур Кралове на Лаба
• sr: Двур Кралове на Лаби
• bg: Двур Кралове над Лабем
• ru: Двур-Кралове-над-Лабем
• uk: Двур-Кралове-над-Лабою
Dvůr Králové nad Labem (in German: Königinhof an der Elbe) is situated at an elevation of 298 m on the river Labe (Elbe) about 17 km southwest of the district town Trutnov and about 25 km north of the regional capital, Hradec Králové. The municipality has a population of about 15,500 (2021).
It is assumed that at this place a royal court (in German: Hof) was founded in the 12th century. At its place a royal town was founded, which was first mentioned as curia ('court') in a written document dating from 1270. In 1308 the town was fortified by a wall and a moat. In 1365, Hof and Trutnov were given to Duke Bolko II of Schweidnitz (Świdnica) and his wife Agnes. After the death in 1392 of duchess Agnes, Hof and Trutnov reverted to King Wenceslas (Václav) IV of Bohemia, which declared it a possession of his wife, Sophie of Bavaria. Subsequently, the name 'Königinhof' ('queen's court') became common. During the Thirty Years' War (1618–1648), the town was repeatedly looted and damaged, and experienced decline. It was also marked by the War of the Austrian Succession (1740–1748), the Seven Years' War (1754/56–1863) and the Austro-Prussian War (1866). The town however recovered thanks to textile crafts (weaving and dyeing), and became regional centre of trade and crafts. The industry further developed after the railway was built in 1858, the road network was improved, and the Elbe became navigable. In the 1880s, the first textile factories were established. Until 1918, the town was part of the Austrian monarchy (Austria side after the compromise of 1867), head of the Königshof an der Elbe – Dvůr Králové nad Labem district. After the World War II, the German inhabitants were expelled.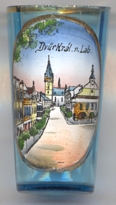 On 16 September 1817, the Czech philologist Václav Hanka allegedly discovered a manuscript appearing to be from the 13th century in the tower of a local church. The 'Manuscript of Dvůr Králové', probably in fact created by Hanka, was intended to help Czech patriots in the struggle against German culture. Although it has been proved to be most likely a counterfeit, it became an important part of the country's history.
The

deanery church of St. John the Baptist [background] goes back to the Romanesque period. It was rebuilt as a three-naved church towards the end of the 14th century. The porch was added in 1588 and the tower was heightened in 1644. Its present appearance was shaped by reconstructions in the 1890s.
The Renaissance

old town hall [right] is the landmark of the town. It was rebuilt in 1833, after the original building from 1572 burned down in 1790.

[https://de.wikipedia.org/wiki/Dv%C5%AFr_Kr%C3%A1lov%C3%A9_nad_Labem; https://en.wikipedia.org/wiki/Dv%C5%AFr_Kr%C3%A1lov%C3%A9_nad_Labem]

---