| | |
| --- | --- |
| ESPAÑA | Spain |
| Galicia | |
| Provincia de Pontevedra | |
map →
Cuntis
• ru: Кунтис
• uk: Кунтіс
Cuntis is situated at an elevation of 200 m about 24 km north of the provincial capital Pontevedra and about 20 km south of Santiago de Compostela, the capital of the Autonomous Community of Galicia. The municipality has a population of about 4,600 (2022) and is formed by the parishes Arcos (San Breixo), Ciquiril, Couselo (San Miguel), Cuntis (Santa María), Estacas (San Fiz), Piñeiro (San Mamede), Portela (Santa Eulalia) and Troans. Cuntis is part of the Comarca Caldas, also known as Comarca do Umia, formed by the municipalities of Caldas de Reis, Cuntis, Moraña, Catoira, Valga and Portas.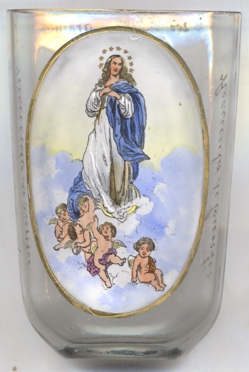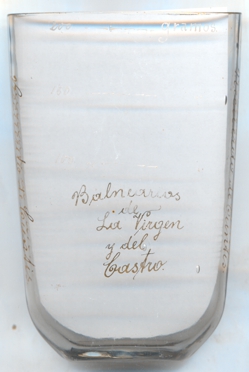 Cuntis is known for its thermal waters and for its spa, which is attended by a large number of tourists every year. Also noteworthy is its Castrolandín archaeological park, currently in the excavation phase by the University of Santiago.
The glass is a souvenir from the

Balnearios La Virgen y del Castro, as labeled on the reverse side. The Termas de Cuntis thermal complex is the largest spa in Galicia and is made up of the Hotel Castro do Balneario, the Hotel La Virgen and the Forniños Spa. By 1697 it was already spoken of the Caldas de Cuntis and three springs were described. In 1835, during building work on a house, a square pool was found, for about twelve people, with a special mortar and a fountain in each corner, confirming the use of these waters since ancient times. The predecessors to the current property merged the Baños del Castro and Baños de la Virgen in 1886. In 1998 a new building was constructed on the land occupied by the old Barreiro bath house, entirely dedicated to balneotherapy and connected to the hotel zone through a tunnel.

[https://de.wikipedia.org/wiki/Cuntis, https://es.wikipedia.org/wiki/Cuntis; https://www.aesfas.org/hoteles/termas-cuntis-hotel-la-virgen-hotel-castro/]

---