| | |
| --- | --- |
| SLOVENSKO | SLOVAKIA |
| Nitriansky kraj | Nitra region |
| okres: Nitra | |
map →
Nitra
• de: Neutra
• hu: Nyitra
• el: Νίτρα
• bg, mk, ru: Нитра
• be, uk: Нітра
• sr: Њитра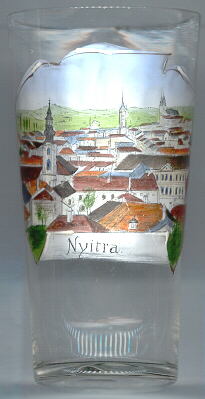 Nitra is situated at an elevation of 140 m on the river Nitra in western Slovakia. Nitra is the oldest town in Slovakia. The first mentioning of Nitra (as Nitrava) is found in a document of 829 AD, mentioning the building of the first Christian church in Slovakia within the castle precinct. Shortly after that, Nitra became part of the Great Moravian Empire. In 863 AD St. Cyril and St. Methodius came here during their mission to spread the Christian faith in the region. In 880 AD the first bishopric in the territory of Slovakia was established in Nitra. When the territory became part of the Hungarian kingdom in 920, Nitra became an apanage principality, the seat of a non-ruling younger brother of the Arpad dynasty (until 1106). In 1248 Nitra obtained the status of a free Royal town. During the Turkish Wars of the 16th and 17th century, Nitra was an important defense bastion. During the first anti-Habsburg revolts, Nitra was devastated by the insurgents. After the second uprising of 1703, Nitra had to surrender in 1704, but was conquered again by the Imperial troops in 1709. Today, Nitra is Slovakia's fourth-largest city. Nitra is home to Agricultural and Pedagogical Universities, a famous winery and brewery.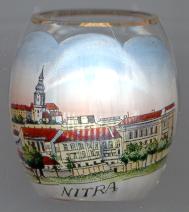 The Upper church of

St. Emmeram's cathedral [right, no. 924] within the castle precinct was built in 1333–1355, originally in Gothic style. St. Emmeram's Rotunda dates back to the 11th/12th century; it houses a silver reliquiary, made by an unknown Augsburg metal cutter in 1674. Another reliquiary holds relics of St. Cyril. The Lower church was built in 1621–1642. The castle and the cathedral were remodelled in Baroque style in 1710–1736 by the architect Domenico Martinelli.
The

Piarist church and monastery [left, no. 553: background right, barely visible] was founded in 1701. When the first building of the monastery church was almost completed in 1716, it was destroyed by fire. In its place, a new church was built in 1742–1748 in splendid Baroque style with two monumental towers. The church interior was renovated in 1940; on that occasion the vaulting was decorated with three modern frescos with themes of the Slavic history of Nitra.
The Austrian painter and graphic artist Anton LEHMDEN was born in Nitra in 1929. Lehmden was one of the most prominent exponents of the Vienna School of Fantastic Realism.

---