| | |
| --- | --- |
| SLOVENIJA | SLOVENIA |
| regija: Savinjska | |
map →
Šoštanj
• de: Schönstein
• lt: Šoštanis
• ru, uk: Шоштань
• mk, sr: Шоштањ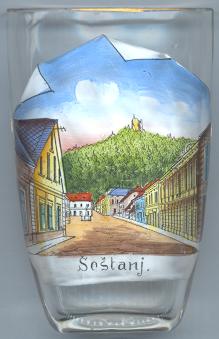 Šoštanj is a municipality in the north of the Savinjska region of Slovenia. The municipality has a population of about 8,700 (2008), Šoštanj proper has a population of about 2,800.
Šoštanj was first mentioned in written documents dating to around 1200 as Schönstein in relation to its castle. As a market town it was first mentioned in 1348. It was given town status in 1919 and until the 1960s was the center of the Šalek Valley (Šaleška dolina). In 1963 nearby Velenje became the administrative center. Šoštanj again became a municipal center in the late 1990s. The town has a long leather-working history, with industrial-scale activity going back to 1788. The factory was owned by the Woschnagg family, a Germanised branch of the Vošnjak family, until it was nationalized in 1945. The processing factory was closed down in 1999. A leather industry museum is now open in the town. Today, Šoštanj is also well-known as the site of Slovenia's largest thermal power plant, which produces about one quarter of the electricity supply of the country.
The town district of Topolšica was already known in the 16th century due to its thermal springs (32°C). Topolšica was the site of the signing on 9 May 1945 by General Alexander Löhr of the capitulation of the German Army Group E (Southeast Europe).
[Text adapted from http://en.wikipedia.org/wiki/Šoštanj, https://de.wikipedia.org/wiki/Šoštanj]

---