| | |
| --- | --- |
| DEUTSCHLAND | GERMANY |
| Bundesland: Freistaat Thüringen | Thuringia |
| Landkreis: Greiz | |
map →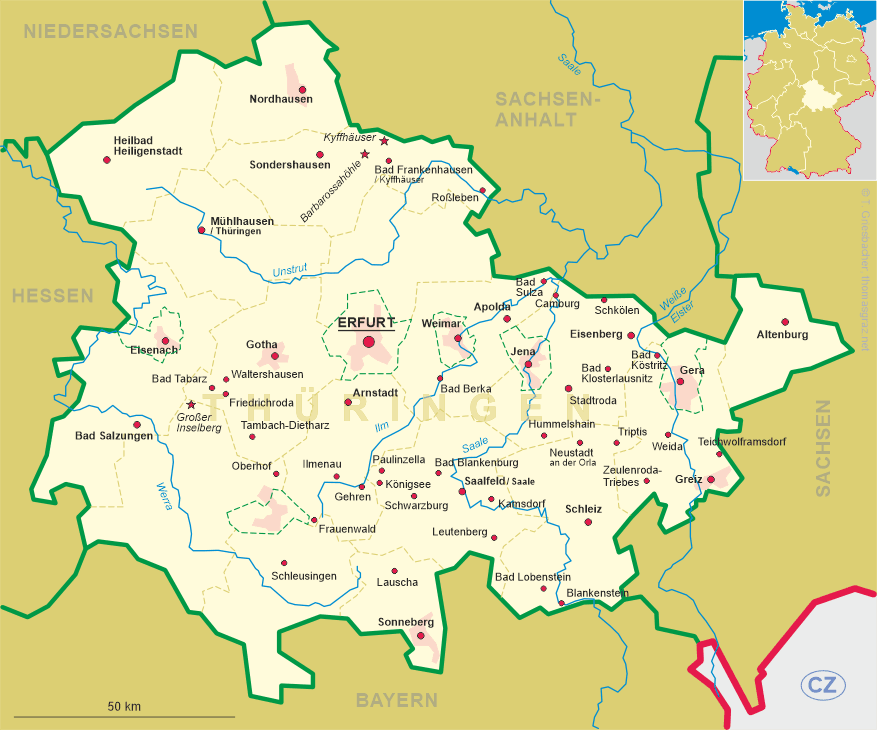 Weida
• ru: Вайда
Weida is situated at an elevation of 233 m at the river Weida in the district Greiz in eastern Thuringia. It was first mentioned in a document of 1122 and obtained the status of a town in 1209. The town and the whole region were governed by the bailiffs and lords of Weida. This area today is still called 'Vogtland' (Vogt = bailiff) and comprised eastern Thuringia, southwest Saxony, parts of northern Bavaria and of eastern Bohemia. Between 1406 and 1427 the importance of the town diminished as the bailiffs of Weida lost their power and their estates eventually came into possession of the Margrave of Meißen from the house of Wettin. From 1588 until 1815 Weida belonged to the Electorate of Saxony. During the Thirty Years' War the town was conquered and set on fire in 1633. In 1643 Swedish troops looted the town. From 1657 Weida was part of the Duchy Saxe-Zeitz, which in 1718 fell back to the Electorate of Saxony. In 1815 Weida became part of the Kingdom of Prussia which ceded it to the Duchy Saxe-Weimar-Eisenach in 1816. After World War I it became part of the newly founded German state of Thuringia.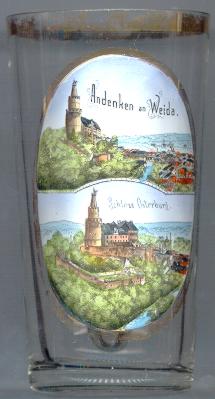 The castle

Osterburg [left, no. 729: top and bottom] was built by provost Heinrich I between 1162 and 1193. During the Thirty Years' War almost the whole castle except the keep (54 m high, walls up to 5.7 m thick) was destroyed. The remaining parts were rebuilt after this destruction in Renaissance and Baroque style. The castle was originally called 'das feste Haus zu Weida' ('the firm house at Weida'). From 1717 on it was called 'Osterburg' (derived from 'Ostland', 'land in the east').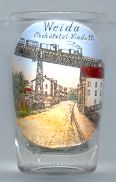 The

Oschütztalviadukt [right, no. 1442] was constructed in 1884. The iron bridge (28 m high, 185 m long) was one of the technically most advanced bridges of its time. In 1915 the construction had to be reinforced to allow railroad traffic with heavier trains. The regular train service across the bridge was discontinued in 1983 because the lines had been moved. The bridge has been protected as a technical monument.

---