| | |
| --- | --- |
| ČESKÁ REPUBLIKA | CZECH REPUBLIC |
| Karlovarský kraj | Karlovy Vary region |
| Okres: Cheb | |
map →
Cheb
• lt: Chebas
• de: Eger
• fr: Egra
• lv: Heba
• be, bg, mk, ru, sr, uk: Хеб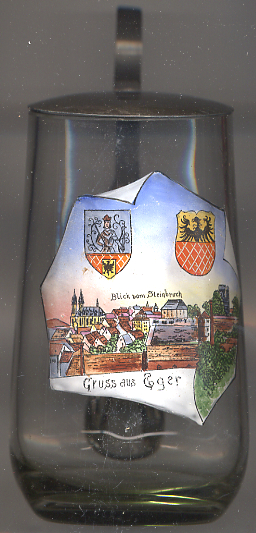 Cheb (German: Eger) is situated at an elevation of 484 m on the river Ohře (Eger) in western Bohemia. Cheb was first mentioned as Egire in a document of 1061; the Czech name goes back to at least 1322. During the reign of Johann of Luxembourg, King of Bohemia, Cheb came into possession of the Bohemian Crown but retained a privileged position. The best-known historical event taking place in Cheb was the assassination on 25 February 1634 of the generalissimo of the Imperial army, Duke Albrecht of Waldstein (Wallenstein, Valdštejn). During the second half of the 17th century and in the 18th century the town underwent a profound Baroque transformation. Of the many architects who have worked in Cheb the best-known are certainly Christoph Dientzenhofer and Cheb's native Johann Balthasar Neumann (1687–1753).
The picturesque part of the central market square of Cheb depicted on the glass stein is called

Špaliček [left]. The complex of 11 buildings divided by the street Kramarska has its origins in the 13th century. The oldest depiction of this part of the town dates from 1472. Since then the ground plan of these two blocks has remained basically unchanged until today.
The

church of St. Nicholas [background centre] dates back to the early 13th century. The west portal and the lower parts of the towers still date from that time. The nave, presbytery and vestry date from the Gothic period. After a fire in 1742 the towers were fixed with Baroque domes according to design of Johann Balthasar Neumann. These were replaced by Neogothic roofs in 1864. The picture on the glass stein shows this Neogothic appearance of the towers. The roofs were destroyed in 1945 and were replaced by a more simple design after the war.
Two coats of arms are depicted on glass no. 2936 [right]: on the right side the coat of arms of the city of Cheb.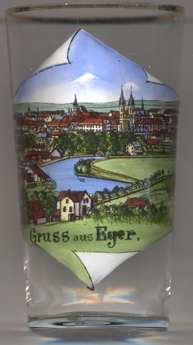 The

bridge over the river Ohře (Eger) depicted on glass no. 3918 [near left] was built in 1899. It replaced an older, wooden bridge, and at the time, like the previous construction, was called Brucktorbrücke, as it was located next to the former Brucktor ('Bridge Gate', demolished in 1833), itself named for the bridge (first mentioned in 1374). The iron construction of the new bridge until the mid-20th century remained the only river crossing leading into the city. In April 1945 the bridge was blown up by the Volkssturm, the national militia established by Nazi Germany during the last months of World War II. After the war, American soldiers first built a wooden temporary bridge, which in 1947 was replaced by an iron construction, built by English pioneers. In 1998 it was replaced by a modern concrete bridge.

[http://encyklopedie.cheb.cz/de/encyklopedie/brucktorbrucke; https://en.wikipedia.org/wiki/Volkssturm]

---