| | |
| --- | --- |
| SLOVENSKO | SLOVAKIA |
| Košický kraj | Košice region |
| okres: Košice I – IV | |
map →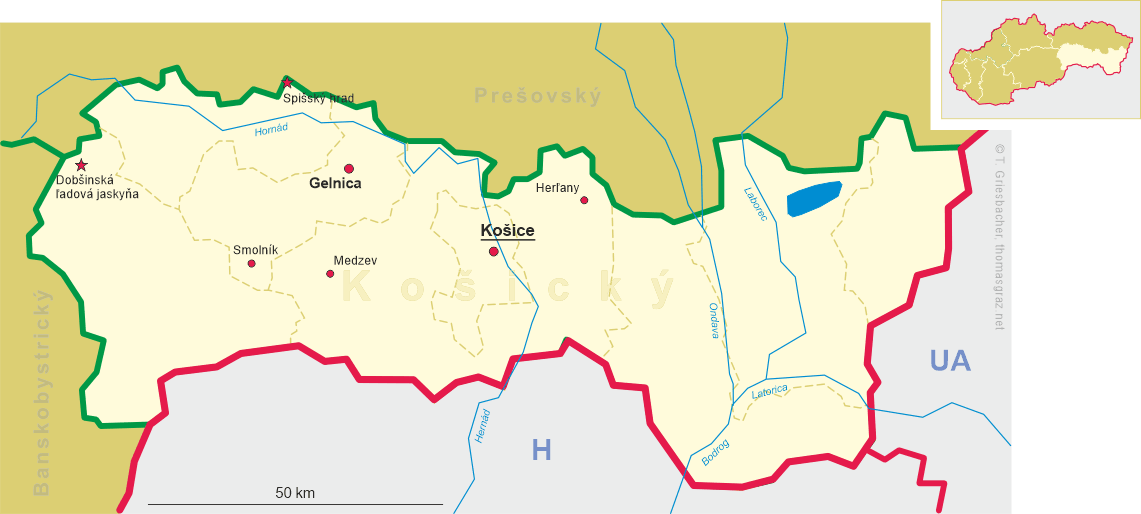 Košice
• de: Kaschau
• hu: Kassa
• lt: Košicė
• pl: Koszyce
• el: Κόσιτσε
• bg, mk, ru, sr, uk: Кошице
• be: Кошыцэ
Košice, Slovakia's second-largest city, is situated at the Hornád (Hungarian: Hernád, German: Kundert, Hernad) river in the Košice basin of eastern Slovakia. It was first mentioned in a document in 1230. Due to its favourable position it grew rapidly; first privileges were granted in 1249. The oldest guild regulations were documented in 1307. In 1369, the city received its own coat of arms, the first of all towns in Europe. Between 1347 and the beginning of the 18th century it secured its position as second city in the Kingdom of Hungary after Buda (now Budapest). The university of Košice was opened in 1657; in 1776 it obtained the status of a royal university. As a law academy it operated until 1921. Together with Marseille, Košice was selected to be European Capital of Culture for 2013.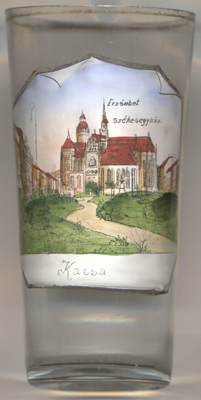 The

church of St. Elisabeth dates back to the 13th century. The first, one-naved church was built in 1260–1280 but was destroyed by fire about 1370. The construction of the present-day church in High Gothic style started about 1378 and lasted until 1420. Further chapels were added to the church in 1470–1477. After severe damages by a siege of the town in 1491, the church was restored and the presbytery was added as the last stage of the construction in 1508. Numerous restorations followed during the subsequent centuries; the most extensive one in 1877–1896 changed the interior and exterior appearance of the church considerably.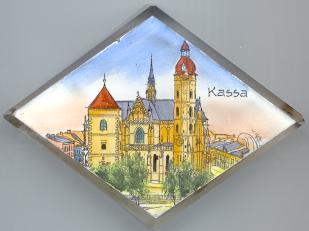 All four glasses [no. 3664: left; no. 3691: far right; no. 4158: below; no. 869: near right] are labeled with Košice's former Hungarian name, Kassa; glass no. 3691 [far right] also gives the name of the church in Hungarian: Erzsébet székesegyház (Elisabeth Cathedral). Glass no. 4158 [below left] interestingly gives the name of the town in Hungarian, Kassa, but the label also includes the German word for 'cathedral', Dom; in Hungarian that would be székesegyház, in Slovak katedrála. The labeling on glass no.₉4465 [below right] reads Erzsébet székesegyház az új parkkal, i.e. Elisabeth Cathedral with the new park.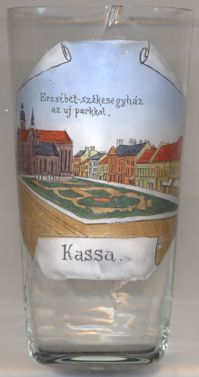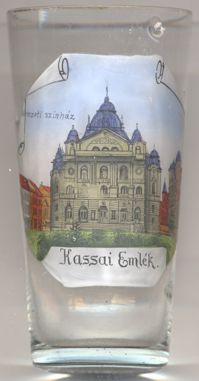 The

National Theatre Košice (Národné divadlo Košice) [near left, no. 4466] was built in 1879–1899 in neo-Baroque style according to a project by the Hungarian architects Adolf Láng and Antal Steinhardt. The building was extensively renovated between 1987 and 1994. Originally it had 926 seats. After renovations in 1954–1959, 1973–1975 and 1987–1994 it has 560 seats today. The picture on glass no. 4466 is labeled in Hungarian: Nemzeti sinház / Kassai Emlék (National Theatre / Souvenir from Kassa).
[https://de.wikipedia.org/wiki/Nationaltheater_Ko%C5%A1ice; http://www.andreas-praefcke.de/carthalia/]

---