| | |
| --- | --- |
| ČESKÁ REPUBLIKA | CZECH REPUBLIC |
| Plzeňský kraj | Plzeň region |
| Okres: Klatovy | |
map →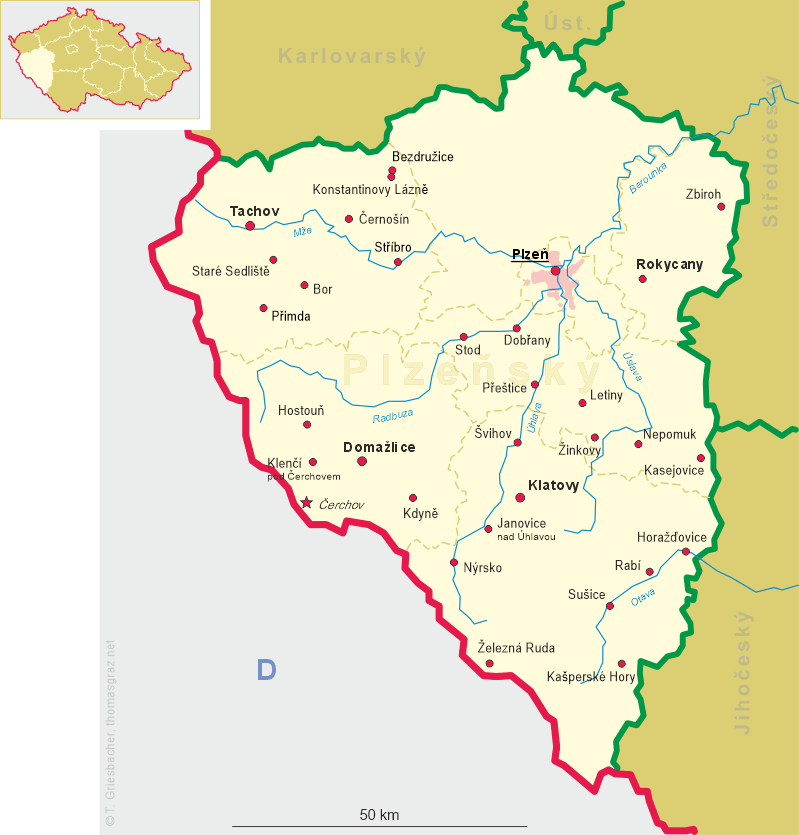 Kašperské Hory
• alt: Pergreichenssteinské Hory
• de: Bergreichenstein, Reichenstein
• ru: Кашперске-Гори
• uk: Кашперське-Гори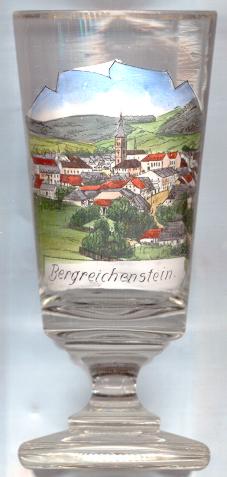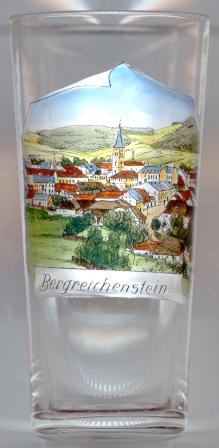 Kašperské Hory (German Bergreichenstein, in earlier times also Reichenstein) began to develop as a settlement of gold miners in the late 13th and early 14th century. Gold mining was the most important factor for its economy for several centuries. The place was received the status of a town in 1330, an own coat of arms was granted in 1572. In 1584 the town was elevated to a Royal mining town. A further factor for its economic development was its location on the Golden Path, one of the most important trading routes of the Middle Ages. Gold mining was stopped in 1777, but reopened during 1803–1868 and 1914–1923. A new gold deposit found in the 1970s and 80s is considered to be the largest gold ore deposit in Central Europe.
The

arch-deanery church of St. Margaret (previously St. Leonard) [centre] was originally built in Gothic style in the second half of the 14th century. It was later remodelled in Baroque style. The church tower (50 m high) was built in 1883.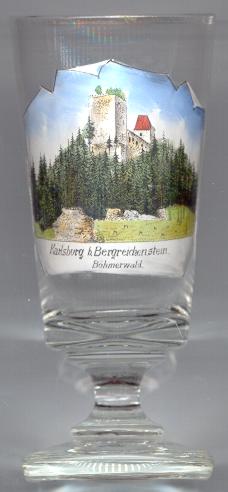 The

castle [left] was built in 1356–1361 by Emperor Karl IV and was named after him (Karlsburg in German, hrad Kašperk in Czech). During the Hussite Wars of the 15th century the castle was not attacked by the Hussites because the owners at that time adhered to the Utraquist beliefs. Due to its favourable location on a steep rocky hill it was never conquered. Nevertheless it was abandoned in the 16th/17th century. In 1617 the castle came into possession of the town. After 1655 parts of the castle were pulled down. During the 19th century the ruins of the castle were renovated in Romantic style. Further renovations followed in the 20th century.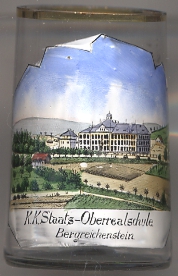 Glass no. 2840 [near left] shows a view of the

k.k. Staats-Oberrealschule, i.e. German for 'k.k. state senior secondary modern school'. The abbreviation 'k.k.' means 'kaiserlich-königlich', i.e. 'Imperial-Royal', denoting an institution belonging to the 'Austrian' part of the Austro-Hungarian Monarchy (after 1867), more precicely to all parts of the monarchy not belonging to the Hungarian Crown. 'Imperial' refers to the Austrian Empire, 'Royal' to the Kingdom of Bohemia. The school was founded in 1906. [http://www.dbb-aalen.de/Herkunft/Herkunftsorte/Herkunft-03-Orte-Bergreichenstein.html]
Reichenstein was also the old German name of Złoty Stok (Poland).

---