The

Garfield monument [left] is located in Lake View Cemetary, in the suburbs of Cleveland, and is probably the first true mausoleum in America with the combination of tomb and memorial.
James Abram Garfield was born in 1881 on a frontier farm in Cuyahoga county. After graduation (1856) from Williams College in Massachusetts, he became a teacher of ancient languages and literature at the Western Reserve Eclectic Institute at Hiram, Ohio (the name was later changed, largely through his influence, to Hiram Institute), and later (1857–1861) was its principal. During the Civil War he served in the Union army and was a major general of volunteers when he resigned (1863) to take his seat Representative (Republican) in Congress. On March 4, 1881 he was elected 20th President of the United States. On July 2 of the same year he was shot in a Washington, DC railroad station and died from an infection and internal hemorrhage on September 19 after being taken to the New Jersey seaside for recuperation.
Many of the American people contributed to raise a large sum of money for the Garfield family. Some of this money was given to the Garfield National Monument Association which began construction of the monument in 1885. Five years later, the monument was completed and dedicated on May 30, 1890. The monument is constructed of native Ohio sandstone upon a design by George Keller, an architect of Hartford, CT, who had won the commission in a national competition. Inside the monument under the tower is a white Carrara marble life-size statue of Garfield. His tomb lies directly beneath the memorial hall.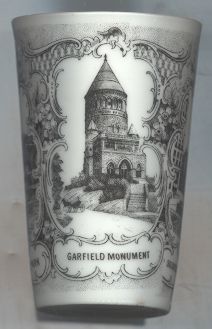 The

Soldiers and Sailors Monument [left] in Public Square in downtown Cleveland was built in 1894 to honor the 10,000 men from northeast Ohio who served in the American Civil War (1861–1865). Their names are engraved on the interior marble walls.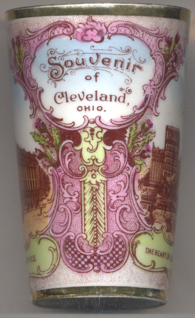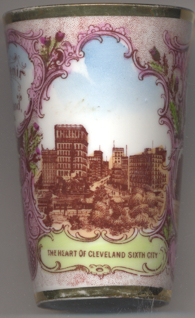 The Heart of Cleveland Sixth City. Cleveland emerged in the early 20th century as an important American manufacturing center. In the early 20th century, Cleveland was the sixth-largest city in the US and thus adopted the Sixth City nickname. In the mantime, however, Cleveland only ranks as the 51st in terms of population (397,000 in 2010).
[https://en.wikipedia.org/wiki/Cleveland]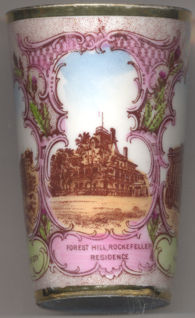 Forest Hill Rockefeller Residence. Forest Hill is an historic neighborhood spanning parts of Cleveland Heights and East Cleveland and is bordered to the north by Glynn Road, the south by Mayfield Road, by Lee Boulevard to the west and North Taylor Road to the east. Forest Hill was once the beloved summer home of oil magnate John D. Rockefeller and his family. John D. Rockefeller, Jr. purchased the estate from his father in 1923 and, with New York City architect Andrew J. Thomas, planned an upscale residential and commercial development featuring distinctive French Norman style architecture.
[https://en.wikipedia.org/wiki/Forest_Hill,_Ohio]

U.S. Post Office. The five-story, granite-faced building was constructed between 1903 and 1910. The building, designed by the New York Architect Arnold W. Brunner, covers the entire city block bounded by Rockwell Avenue on the north, Superior Avenue on the south, East Third Street on the east, and Public Square on the west. It is one of Cleveland's great monumental public buildings, skillfully illustrating the strong, classical characteristics of Beaux-Arts architecture. Construction of the U.S. Post Office, Custom House, and Courthouse building lasted from 1903 until 1911. The U.S. Post Office moved out in 1934. Additional courtrooms were added in 1950. In 1974 the building was listed in the National Register of Historic Places. In 1998 it was renamed Howard M. Metzenbaum United States Courthouse.
[https://en.wikipedia.org/wiki/Howard_M._Metzenbaum_United_States_Courthouse]