Wilmington
is situated at an elevation of 1,580 ft (482 m) in the picturesque Deerfield Valley in the Green Mountains of southern Vermont. Wilmington was chartered in 1751. According to the census of 2000 it had a population of 2,225.
In the original grant of April 29, 1751, the town was named for Spencer Compton (c.1674–1743), 1st Earl of Wilmington, who was largely responsible for Benning Wentworth's (1696–1770) appointment in 1741 as Governor of New Hampshire. The town was not settled within the required five-year period, and was re-granted to an entirely different group on June 17, 1763 and named Draper, in honor of either or both John and Richard Draper, the famous Boston printers, father and son. However, this name never gained much popularity, and the original name, Wilmington, was used by the local people since very early on.
The private

Forest and Stream Club [right] was opened in 1892 and boasted a restricted clientele comprised largely of rich urban businessmen. The members of the club purchased hundreds of acres, built this elegant clubhouse, and promoted a strong conservation agenda. As in other rural-tourist destinations in the northeastern United States, struggles between visitors and residents erupted in Wilmington over fishing rights on land owned by the Forest and Stream Club. Soon after the Club was established in 1891, its members informed residents of new, stringent restrictions regarding access to streams on club property.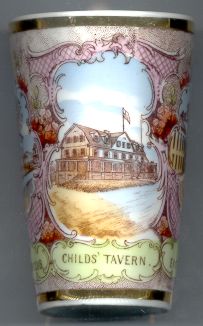 The

Childs' Tavern [left] is an excellent example of the Colonial Revival known to the late 19th century. The structure was designed in 1896 by a flamboyant architect, Stanford White. He is known for such structures as the Madison Square Tower, the Washington Square Arch and the Morgan Library in New York city. The Tavern was built for Major Frederick Childs, a successful New York and Florida hotel owner. The building is recognized by the National Register of Historic Places and today operates under the name Crafts Inn.
The third view on tumbler no.B040 shows

East Main Street [right].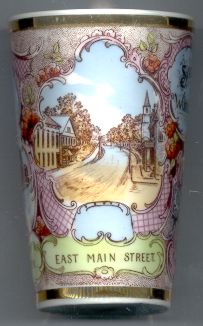 [Texts adapted from http://www.virtualvermont.com/towns/wilmington.html, http://www1.wsc.ma.edu/nestval/Harrison.pdf, http://www.gdh-imports.com/Ads/CraftsInn/2.htm]