Zanesville
is situated at an elevation of 695 ft (211 m) in Muskingum County, Ohio, about 70 miles east of Columbus, the state's capital. Zanesville is the county seat of Muskingum County and as of the 2000 census had a population of 25,586.
Zanesville was settled in 1797 by John McIntire on land deeded by his father-in-law, Ebenezer Zane (who lent his name to the town). It was Zane who led a party of men to cut a road (Zane's Trace) from Wheeling, WV southeastward to Maysville, KY, leading to the establishment of Zanesville, Lancaster and Chillicothe at major river crossings. The city was the state capital of Ohio from 1810 to 1812.
Zanesville is also noted for its unique Y-shaped bridge which spans the confluence of the Muskingum and Licking Rivers. The current structure is the fifth Y Bridge since 1814. Amelia Earhart called Zanesville "the most recognizable city in the country," referring to the Y Bridge's usefulness as a navigational aid to pilots.
The first picture on tumbler no. 046 shows the

"New Y Bridge", which was built in 1902. It was already the fourth Y bridge at Zanesville. Muskingum County people were proud of their new Y bridge. They boasted that it was the only Y shaped bridge in the world. To meet the competition of other cities, they started to call Zanesville "The Y Bridge City." The bridge was deemed unsafe in 1979 and was demolished in the early 1980's. It was replaced by the present, fifth, Y Bridge in 1984.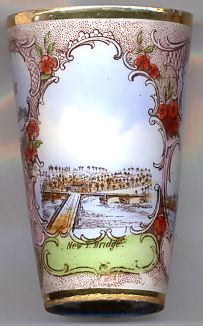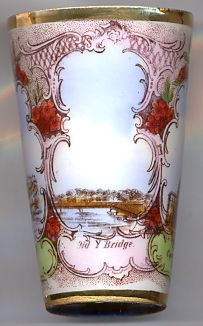 The second picture on tumbler no. 046 shows the

"Old Y Bridge", which was built in 1832 and stood until 1900. It was the third Y bridge of Zanesville.
The first bridge in Zanesville was built by the Putnam Yankees in 1813 and named the Third Street bridge. The plan was to build a bridge "from the point opposite Main Street of Zanesville, to an island at the mouth of the Licking, thence north and south each way across the mouth of Licking Creek." After the first Y Bridge fell into the river, the stockholders of the Muskingum and Licking bridge built a second three-branched structure on the same sight in 1819. After 13 years of service, the second Y bridge was condemned as unsafe. During the winter a flood carried twelve-inch thick ice against the second Y bridge and weakened it. The piers were reinforced, but it was necessary to plan a new bridge by the spring of 1832.
The

Muskingum County Court House at Zanesville was built in 1874–1877. The height of the building is 48 m (156 ft).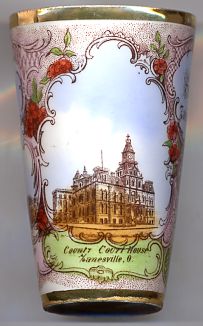 [Texts adapted from http://en.wikipedia.org/wiki/Zanesville,_Ohio, http://www.coz.org/, http://www.emporis.com/en/wm/bu/?id=212078]