If you came to this page directly and do not see a navigation frame on top, please go to the home page.
| | |
| --- | --- |
| DEUTSCHLAND | GERMANY |
| Bundesland: Sachsen-Anhalt | Saxony-Anhalt |
| Landkreis: Burgenlandkreis | |
map →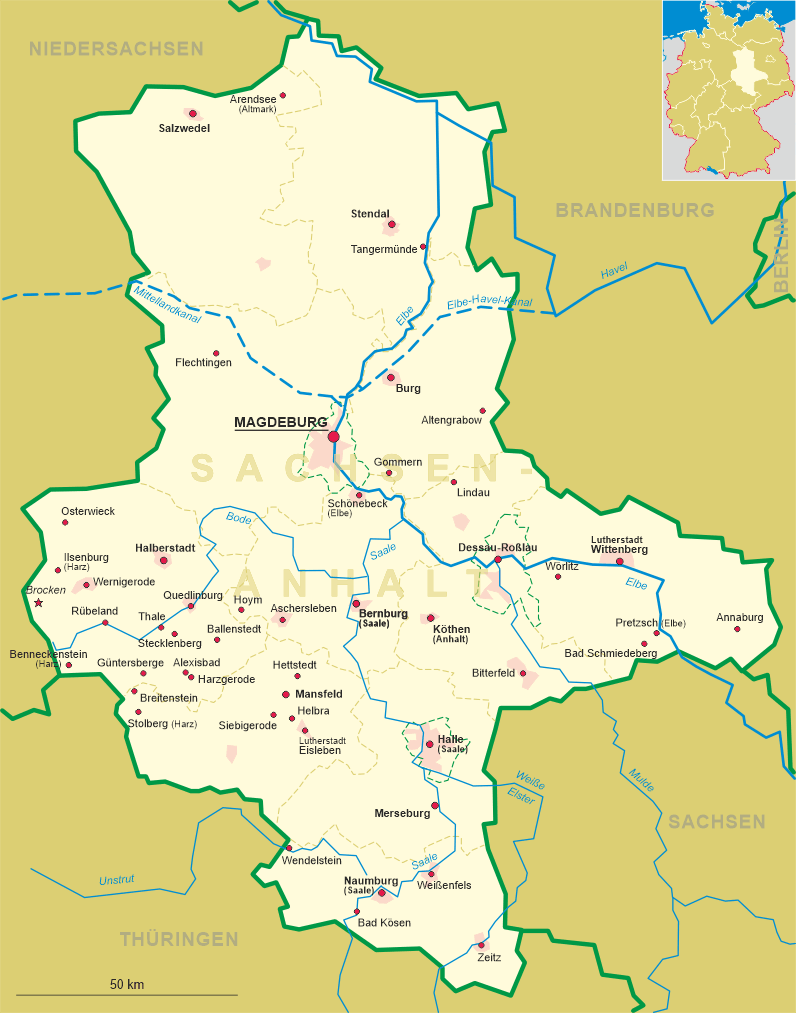 Weißenfels
• ru: Вайсенфельс


Weißenfels is situated at an elevation of 155 m on the river Saale in southern Saxony-Anhalt. In 1136, the castle on top of the hill, a rock of white colour (hence the name Weißenfels, 'white rock'), came in possession of the Wettin family, who founded a settlement below the castle. This settlement obtained the status of a town in 1185. When the Wettin family was divided into two line in 1485, Weißenfels fell to the Albertine line (see chart of the Wettin dynasty). A collateral line, the Dukes of Saxe-Weißenfels, resided here from 1657 until 1746. When the line became extinct, Weißenfels fell back to Saxony. In 1815 it became part of the Province Saxony of Prussia. The district Weißenfels was merged with the district Burgenlandkreis on the 1st of July 2007. The administrative seat of the new district Burgenlandkreis remained in Naumburg (Saale).
The splendid Baroque residence

Schloss Neu-Augustusburg [right, bottom] was built in 1660–1694. It is one of the largest residence castles in Early Baroque style of Central Germany. The important Early Baroque castle church is said to be one of the most beautiful of its kind in Central Europe. The crypt below the church holds the representative tombs of 38 members of the House of Saxe-Weißenfels.
The bottom left picture on glass no. 1191 shows a fountain labeled

Zierbrunnen. The fountain was erected in 1902. The bronze statue was melted down during World War II and has recently been reconstructed.
The most famous son of Weißenfels is Germany's most important poet of the early Romantic period, NOVALIS (real name Friedrich von Hardenberg, 1772–1801).
When King Gustav II Adolf of Sweden died in a battle near Weißenfels during the Thirty Years' War on 6 November 1632, his internal organs were buried in the monastery church of Weißenfels, before his embalmed body was taken back to Sweden.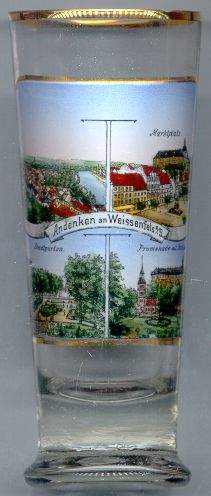 ---