If you came to this page directly and do not see a navigation frame on top, please go to the home page.
| | |
| --- | --- |
| DEUTSCHLAND | GERMANY |
| Bundesland: Baden-Württemberg | |
| Regierungsbezirk: Tübingen | |
| Landkreis: Sigmaringen | |
map →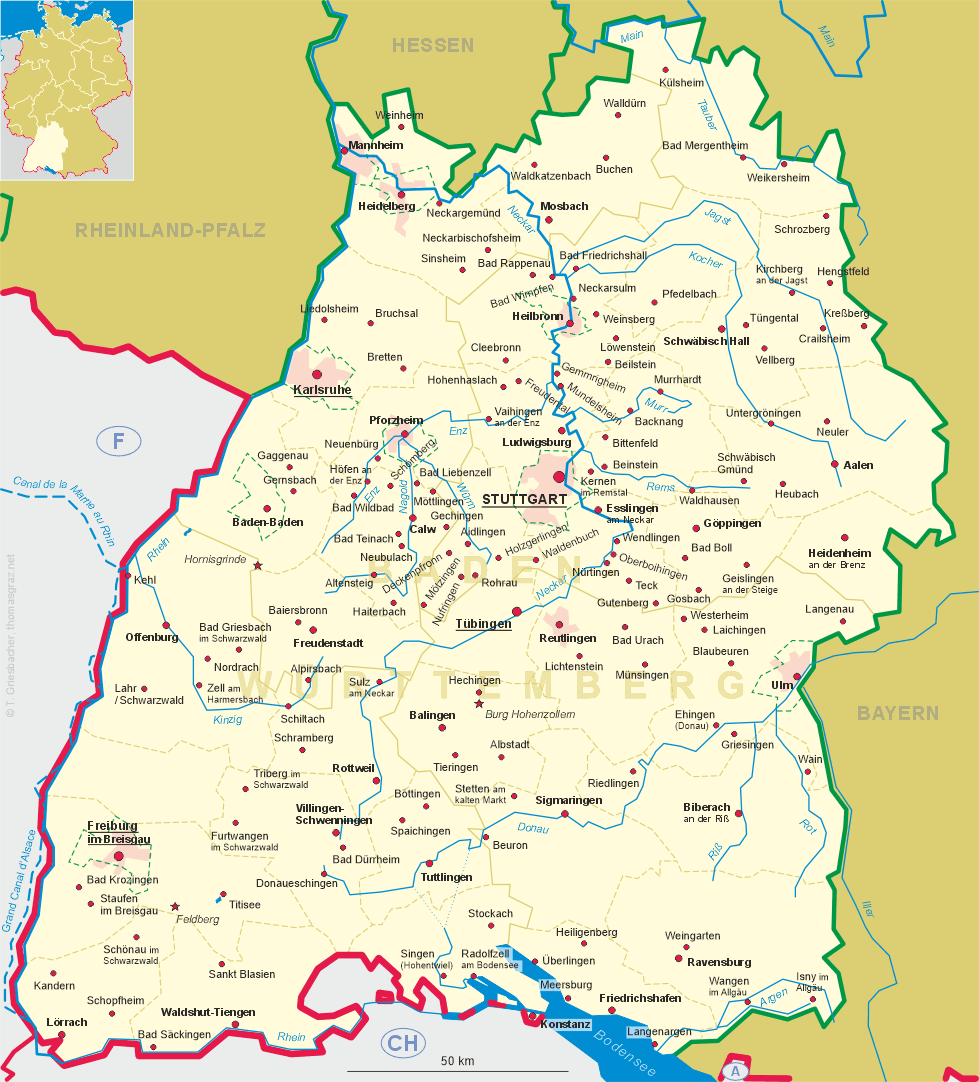 Sigmaringen
• bg, ru: Зигмаринген
• uk: Зігмарінген
• be: Зігмарынген
• mk, sr: Сигмаринген
Sigmaringen is situated at an elevation of 567 m on the river Danube. Archeological finds demonstrate that the area was inhabited by Celtic people around 1000 BC. During the Roman times, around 50 BC, the site had some importance as it was located at the crossways of three Roman roads. Around AD 260 it was conquered by the Alemanni. The castle originated in the 10th century and was mentioned for the first time as Sigimaringin in 1077. The town itself was founded in 1250 and in 1270 came in possession of the counts of Montfort who sold it to Austria in 1290. The Habsburgs were succeeded by the counts of Württemberg in 1325 and the counts of Werdenberg in 1362. Since 1534 Sigmaringen was in possession of the counts (1623 princes) of Hohenzollern. The principality of Hohenzollern-Sigmaringen became a sovereign state in 1806. When the princes of Hohenzollern-Sigmaringen and Hohenzollern-Hechingen abdicated in favour of Prussia in 1848/1849, Sigmaringen became the capital of the administrative district Hohenzollern, which was part of the Prussian Rhine province. After World War II, when the state of Prussia was dissolved, Sigmaringen became part of the land Württemberg-Hohenzollern (capital at Tübingen) within the French occupation zone. In 1951, Württemberg-Hohenzollern was joined with Württemberg-Baden (capital Stuttgart) and Baden (capital Baden-Baden) to form Germany's state of Baden-Württemberg.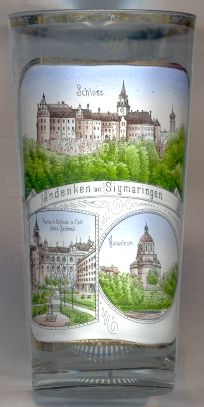 Sigmaringen castle [left, no. 1459: top picture, and right, no. 3650] originated in the 10th century and was first mentioned in 1077. The oldest existing parts of the castle date from the 11th and 12th centuries. The castle was extended in the 15th century. Since 1534 it is in possession of the Hohenzollern family (1576 line Hohenzollern-Sigmaringen). During the 17th century the old castle was remodeled into a residential Renaissance castle. Further modifications followed in 1860–1880. After a fire in 1893 the castle obtained its present appearance in 1895–1899 by Johannes de Pay and Emanuel von Seidl. Final additions were made in 1902. During World War II, the French Vichy regime of marshal Pétain was held captured in the castle by the Germans in 1944/1945. Today, the castle is still owned by the Hohenzollern family. Parts of the castle are open to the public as a museum.
The bottom left picture on glass no. 1459 shows the

monument for Carl Anton of Hohenzollern-Sigmaringen who was Prussian Prime Minister from 1858 until 1862.
The

Erlöserkirche (church of Our Saviour) or Hedinger Kirche [bottom right] was built in 1680–1686. The church houses the tombs of several members of the house of Hohenzollern (hence the labeling 'Mausoleum' on the glass).

---