If you came to this page directly and do not see a navigation frame on top, please go to the home page.
| | |
| --- | --- |
| DEUTSCHLAND | GERMANY |
| Bundesland: Freistaat Sachsen | Saxony |
| Landkreis: Görlitz | |
map →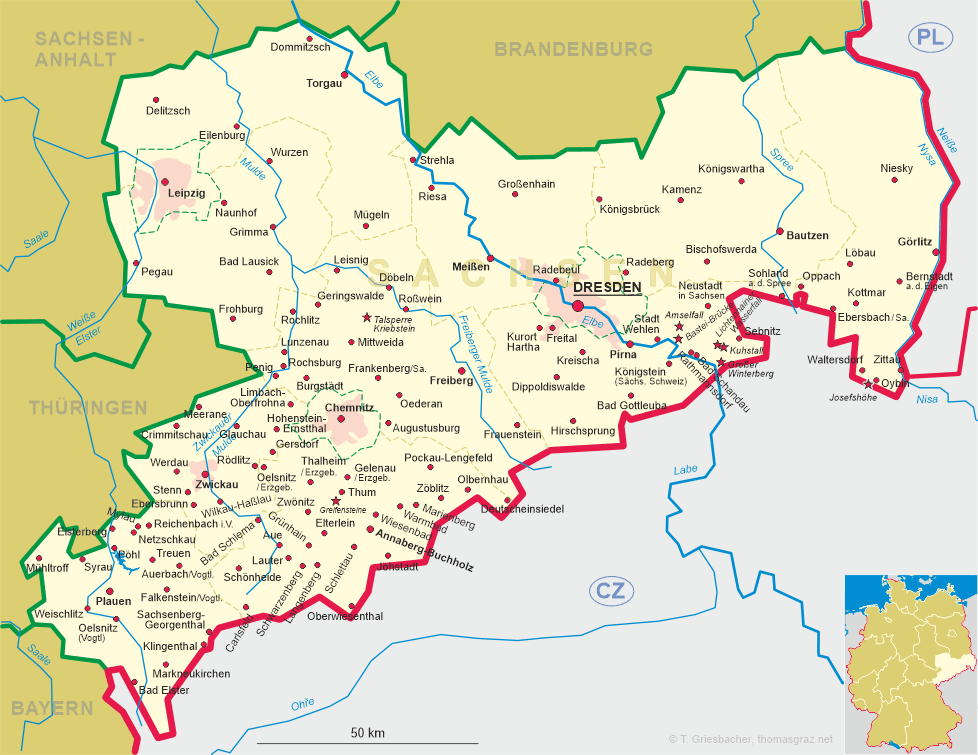 Görlitz
• dsb: Zgórjelc
• lv: Zgožeļeca
• pl: Zgorzelec, Zgorzelic
• cs: Zhořelec
• hsb: Zhorjelc
• el: Γκέρλιτς
• mk, sr: Герлиц
• uk: Герліц
• bg: Гьорлиц
• ru: Гёрлиц
• be: Гёрліц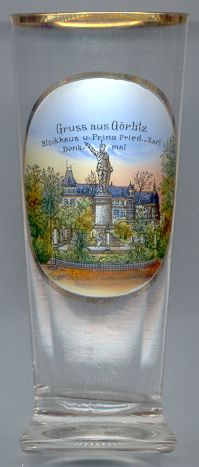 Görlitz is situated at the right bank of the river (Lausitzer) Neiße which forms the border between Poland (Lower Silesia) and Germany (Saxony). The first mentioning in a document dates from 1071 (Goreliz), other old versions of the name include Zhorjelec, Yzhorelik (1071), Gorelic (1266) and Gorlicz (1313). The village began to develop into a town from 1220 onward, and received a town charter in 1303. In 1341, the town obtained the privilege via regia, which meant that all tradesmen travelling east had to bring their goods to Görlitz first. From 1076 until 1253 the town belonged to the Kingdom of Bohemia, until 1308 it belonged to the Margraviate Brandenburg, 1308–1329 it belonged to the Polish ducal family of the Piasts, between 1329–1625 it was again part of Bohemia, and from then until 1815 it belonged to the Electors (1806 Kings) of Saxony. From 1815 on, it was part of Prussia. The Potsdam Agreement of 1945 stipulated that the eastern part of the town on the right bank of the river became part of Poland (Zgorzelic, since 1948 named Zgorzelec), whereas the western part (Görlitz) became part of Germany.
The

Blockhaus [background] was built in 1855 to protect the viaduct at the Obermühlberg. Already in 1857 it was realized that a special protection was not necessary and so the building was converted to a restaurant and café, especially because its location offered a ecellent view on the Neiße valley and the Iser and Ore mountains.
The

monument for Prince Friedrich Karl [foreground] was erected in 1891. In commemorates Prince Friedrich Karl, nephew of Emperor Wilhelm I, who had his headquarters in Görlitz as chief of the First Army during the Prussian-Austrian War in 1866. The monument was unveiled on the 27th October 1891, the anniversary of the capitulation of Metz in 1870 during the French-German War of 1870/71.
The

Lutherkirche [left] was built in 1898–1901 in Romanesque revival style. It was the first Protestant church to be built in Görlitz after the Reformation. The architects were Arno Eugen Fritsche and Adolf Cornehls. Luckily the church did not suffer any serious damages during the two World Wars. A thorough renovation was carried out in 1976–1981. Originally, the church had three bronze bells, cast in Apolda. Two of these three bells were melted down during World War I, and therefore a new set of three bells, made of cast steel in Bochum, was installed in 1926. While the original set of bells was tuned to D major, the new set was tuned to D flat minor, and thus the last one of the original set was rung for the last time on 8 May 1926 when the new bells were consecrated. The original bell, made in Schweidnitz (now Świdnica, Poland), had to be dismantled in 1975 and was finally replaced in 1986 by a new one in, made in Dresden.

Another glass in this collection was produced as a souvenir for the German Millers' Day at Görlitz, 24–24 June 1908, showing a view of the Kwisa (Queis) river dam at Marklissa (today

Leśna

, Lower Silesia, Poland), located about 50 km southeast of Görlitz.


[http://www.stadtwiki-goerlitz.de/index.php?title=Blockhaus, https://de.wikipedia.org/wiki/Lutherkirche_(Görlitz)]

---