If you came to this page directly and do not see a navigation frame on top, please go to the home page.
| | |
| --- | --- |
| DEUTSCHLAND | GERMANY |
| Bundesland: Rheinland-Pfalz | Rhineland-Palatinate |
| Stadt: Ludwigshafen am Rhein | |
map →
Ludwigshafen am Rhein
• lt: Liudvigshafenas
• lv: Liudvigshāfene
• el: Λούντβιχσχαφεν
• bg, mk, sr: Лудвигсхафен
• ru: Людвигсхафен
• uk: Людвігсхафен
Ludwigshafen am Rhein is situated at the left bank of the Rhine opposite the city of Mannheim. With a population of about 166,000 (2002) Ludwigshafen is the second-largest city of Rheinland-Pfalz and is the seat of the administration of the district Rhein-Pfalz-Kreis.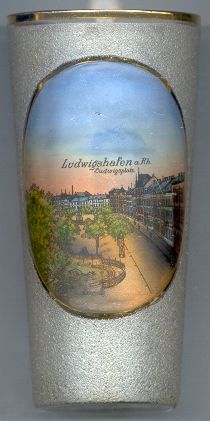 Long before the town itself was founded the head of the bridge across the Rhine was fortified in 1607 by Elector Friedrich IV of the Palatinate in order to strengthen the fortress of Mannheim. The bridge head was further fortified in 1720 when the residence of the Palatinate was moved from Heidelberg to Mannheim by Elector Carl Philipp. During the Napoleonic times the fortifications was pulled down by the French between 1799 and 1804. In its place a private wharf was built in 1811. After the Congress of Vienna in 1815 those parts of the Palatinate which were situated to the west of the Rhine became part of the kingdom of Bavaria. A private trading house was purchased by the Bavarian state in 1843 and was named Ludwigshafen in honour of King Ludwig I. The village at this place was supported by Bavaria in order to establish an antipole to Mannheim which had become part of the Margraviate (1806 Grand Duchy) of Baden in 1802. The municipality of Ludwigshafen was founded in 1853. In 1859 Ludwigshafen obtained the status of a town.
Several villages and towns were merged with Ludwigshafen: 1891 Friesenheim, 1899 Mundenheim, 1938 Oppau (town, together with Edigheim), 1938 Oggersheim (town), 1938 Maudach, 1938 Rheingönheim, 1974 Ruchheim. In order to distinguish the town from other places of the same name Ludwigshafen was renamed Ludwigshafen am Rhein in 1882. In 1886 Ludwigshafen became the seat of a district administration (later Kreis Ludwigshafen, today Rhein-Pfalz-Kreis). In 1920 the city of Ludwigshafen became independent from the district but remained the seat of the district administration.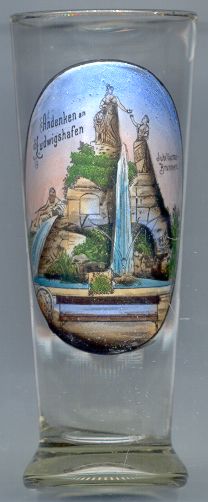 The

Ludwigsplatz [left] is located right in the centre of Ludwigshafen. The beautiful sycamore trees were planted after a private society had donated 160 trees in 1876.
Glass no. 1766 [right] shows the

Jubilee Fountain (Jubiläumsbrunnen) in Jubilee Square (Jubiläumsplatz, today Berliner Platz). The fountain was created in 1903 for the fiftieth anniversary of the foundation of the municipality of Ludwigshafen. It consisted of an artificial rock in a 12 m wide water basin. The monumental figuer on top of it represented Bavaria presenting a brick crown to the allegoric figure of Ludwigshafen (a girl leaning on the city crest). Further sculptures represented Father Rhine, a river mermaid and a water spitting dragon. The festive inauguration took place on the 1st of October 1903. Twenty-five years later, in 1928, the fountain was dismantled to make room for the construction of the 'Alter Pfalzbau', and the metal statues were put in storage. Only the statue of Father Rhine was once again shown in public in a procession for the 'Kolonialfest' of 1938. In 1940 all figures were melted down. [Sincere thanks to the City Archives of Ludwigshafen am Rhein for supplying the historical information.]

---