If you came to this page directly and do not see a navigation frame on top, please go to the home page.
| | |
| --- | --- |
| ČESKÁ REPUBLIKA | CZECH REPUBLIC |
| Královéhradecký kraj | Hradec Králové region |
| Okres: Náchod |   |
map →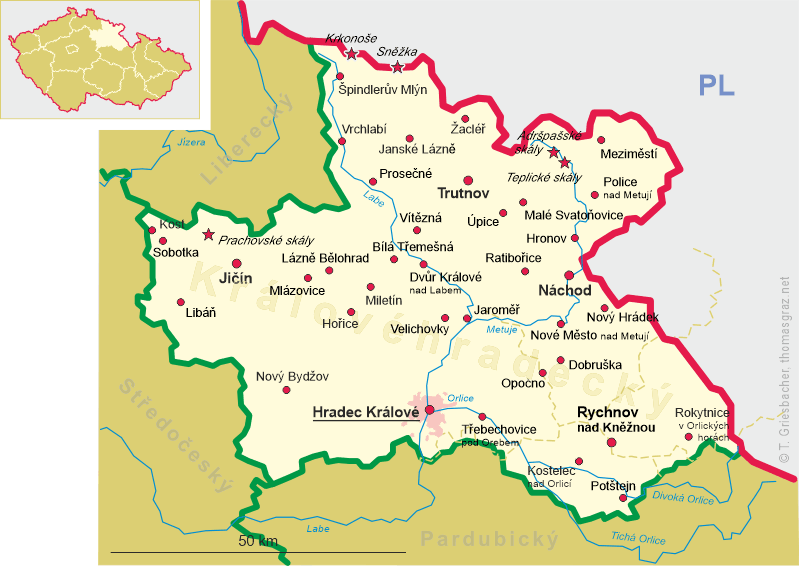 Meziměstí
• de: 
Halbstadt
• sr: 
Мезимјести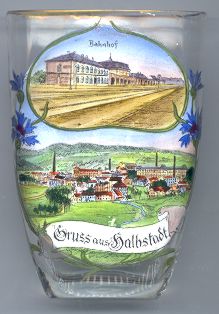 Meziměstí is situated at an elevation of 436 m in the vally of the Štěnava (Steine) river in the Náchod district of northeastern Bohemia close to the border to Poland. Meziměstí has a population of about 2,900 (2003).
Meziměstí was first mentioned in 1408 as a part of Vižňová (Menší Vižňová or Dolní Vižňová, Lesser or Lower V.). In 1434 it came in possession of the monastery of Broumov (Braunau). Since that time it was refered to as 'half town' (in Czech Meziměstí). The German form of the name, Halbstadt, was first mentioned in 1556. Home industry, especially clothmaking, was the main source of income. The first spinning company was founded in 1882. In the late 19th century Meziměstí received a relatively large

railroad station building (see top picture on glass no. 1920) because it was here that the railroad from Breslau (now Wrocław, Poland) to Náchod and Vienna crossed the border between Prussia and Austria. After World War II the German-speaking population (about 85% in 1927) were forced to leave. Today, the area is mainly known for its natural beauty.
---