map
Nové Hrady
• de: Gratzen
• ru: Нове-Грады

Nové Hrady was founded as a fortress at the southern border of Bohemia and received the status of a town already in 1281. In 1620, the estate came into possession of the Counts of Buquoy (Bucquoi von Longueval). Karl Bonaventura Bucquoi von Longueval (1571–1621), Baron of Vaux, Count of Bucquoi, initially served in the Spanish army. 1618 he became Imperial commander-in-chief in the Bohemian war, defended Vienna in 1619 and conquered Moravia after the Battle of the White Mountai (Bílá Hora, today part of Prague). He captured Bratislava and other cities on the Slovakian mountains but died in battle near Nové Zámký (Érsekújvár, Neuhäusel). Under the rule of the Buquoy family the old tradition of glassmaking was taken up again in Nové Hrady.
The

old castle [left] was originally built in 1277. In the 14th century it was enlarged and a moat around the catle was added. Several times it was destroyed or damaged by fires and, in 1590, by an earthquake. From 1620 on it was owned by the Bu(c)quoy family who had it restored. The Bucquoys remained in possession of the castle until 1945.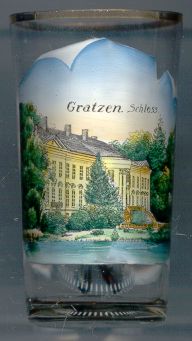 The

new castle [right] was built 1801–1810 for Count Johann Nepomuk Bucquoi von Longueval when the old castle was thought not to be representative enough any more. The plans for the new Empire style château were drawn by the architect Franz von Werschafeld. Today the castle is used by the Academic and University Center Nové Hrady and houses institutes of the Czech Academy of Sciences and the University of South Bohemia of České Budìjovice.

There is another town named Nové Hrady (German: Neuschloss) in the Ústí nad Orlicí district of East Bohemia.

---