If you came to this page directly and do not see a navigation frame on top, please go to the home page.
| | |
| --- | --- |
| DEUTSCHLAND | GERMANY |
| Bundesland: Nordrhein-Westfalen | North Rhine-Westphalia |
| Regierungsbezirk: Arnsberg | |
| Kreis: Soest | |
map →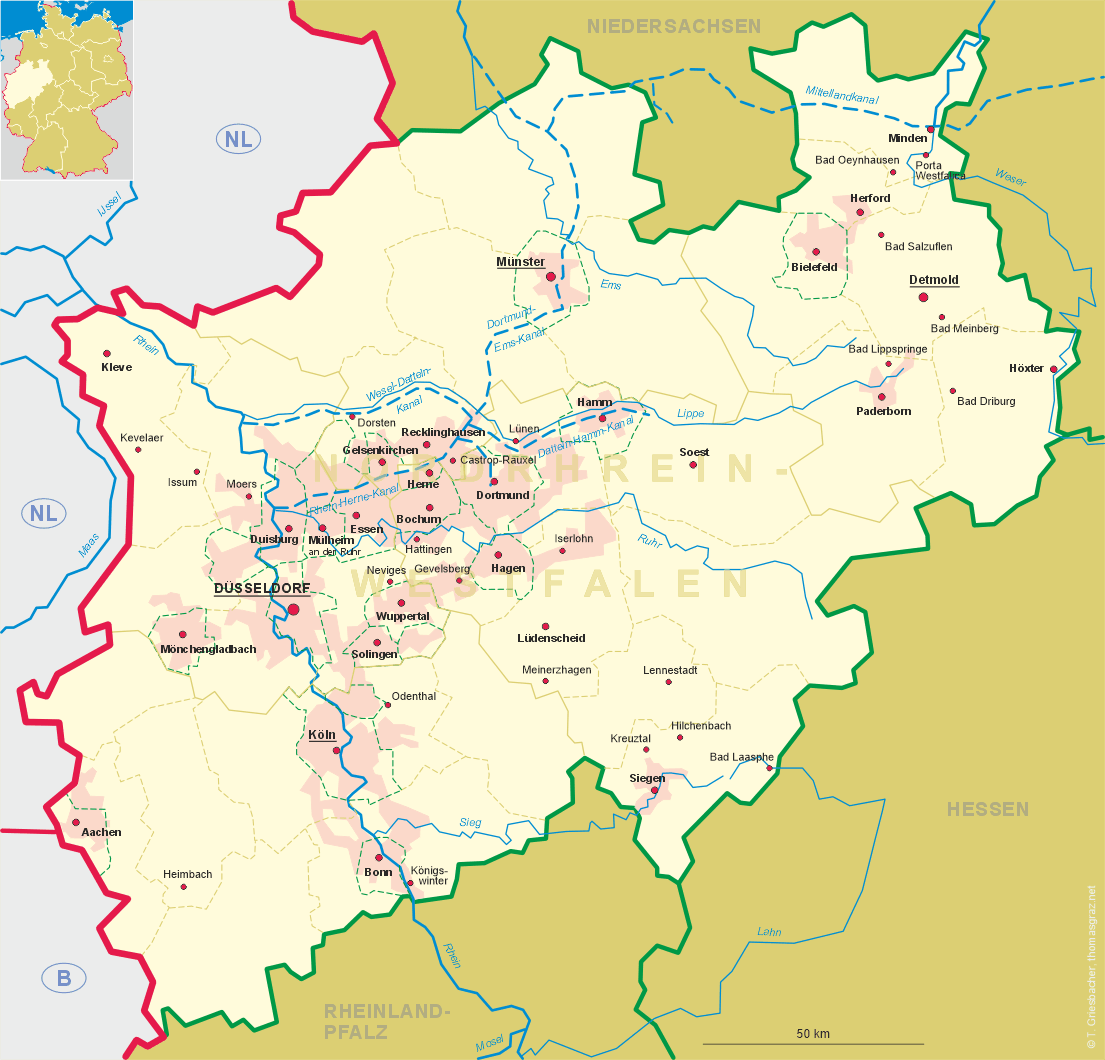 Soest
• lv: Zosta
• lt: Zostas
• sr: Зест
• be, bg, ru, uk: Зост
Soest is situated at an elevation of 90 m in the Soester Börde region, about 50 km each east of Dortmund and west of Paderborn. The municipality has a population of about 48,500 (2007), of which about 30,000 live in the city of Soest itself, the rest in the surrounding 18 city districts (Ortsteile) which were incorporated into Soest in 1969.
Due to the fertile soil the area around Soest was occupied long before 836 when the village is first mentioned in the Dagobertsche Schenkung, although the origin of this document is historically uncertain. In the 11th and 12th century Soest grew considerably, making it one of the biggest cities in Westphalia with some 10,000 citizens. It was also an important member of the Hanseatic League until 1609. During the 'Soester Fehde' (1444–1449) Soest liberated itself from the Bishop of Cologne, who controlled Westphalia. Being no longer capital of Westphalia, the city aligned itself with the duke of Kleve. When the last duke of Kleve died in 1609 the dukedom was inherited by Brandenburg and after a short siege Soest was incorporated into it. During and after the Thirty Years' War (1618–1648), Soest suffered a tremendous loss of both population and influence; at the lowest point in 1756 it had only 3,600 citizens. With the creation of the Soest district in 1817 its influence slowly rose. However, the industrialization of the Ruhr area did not reach Soest, which remained a small city. The Nazi Party placed Soest in Gau Westphalia-South (→map). World War II struck Soest with greatest fury in early April 1945. From approximately 1953 to 1971 there was a sizeable garrison of Canadian soldiers and their families as well as several Belgian camps.
[Text adapted from http://en.wikipedia.org/wiki/Soest,_Germany]
The

Haus zur Rose, also called Freiligrathhaus [left], is one of the most beautiful half-timbered houses of Soest. It is named after the poet Ferdinand Freiligrath (1810–1876) who lived in Soest between 1825 and 1832.

---