If you came to this page directly and do not see a navigation frame on top, please go to the home page.
| | |
| --- | --- |
| POLSKA | POLAND |
| województwo: Warmińsko-Mazurskie | voivodship: Warmia and Masuria |
| powiat: Olecki | county: Olecko |
map →
Olecko
• lt: Alėcka
• de: Marggrabowa, Oletzko, Treuburg
• bg, ru: Олецко
• uk: Олецько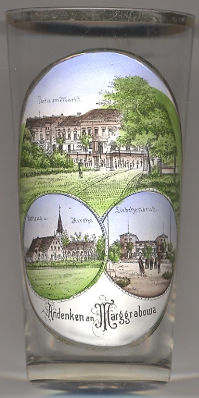 Olecko is situated at an elevation of 160 m in norteastern Masuria where the river Lega flows into the Jezioro Oleckie Wielkie (Great Olecko Lake). Olecko is the seat of the administration of the district (powiat) of the same name. The municipality has a population of about 16,500 (2012).
Marggrabowa was founded as a town by Albert of Brandenburg-Ansbach, Duke of the Duchy of Prussia, on 1 January, 1560. The town's Masurian Slavic-sounding name derived from the German word Markgraf, the duke's title as the margraviate of Brandenburg's prince. The city coats of arms still reflect the Brandenburg red eagle and the Hohenzollern black and white going back to Albert of Brandenburg Prussia. The populace became Lutheran-Protestant within the Duchy of Prussia in 1525. Since 1544 there was also a hunting lodge called Oletzko. At a peninsula towards the lake, across the Lega river, in 1619 the Castle of Oletzko was established as a regional administrative seat for the Dukes of Prussia. In 1920, the East Prussian plebiscite was held in the area by the League of Nations according to the Treaty of Versailles on remaining in East Prussia or affiliation with the recreated state of Poland. In the whole district of Oletzko there were only two pro-Polish votes, so the county remained with Germany. Thus the city was renamed Treuburg ("Loyal Castle") in 1928. Between 1818 and 1945, Marggrabowa was the seat of Oletzko County (Kreis Oletzko) in the province of East Prussia in the Kingdom of Prussia. Following the example of the town, in 1933 also the district was named Kreis Treuburg. The whole area was transferred, this time without plebiscite, to Poland after World War II.
The

market square [top picture], today named plac Wolności ('Liberty Square') covers an area of 7 hectares and before 1945 was the largest town square in Germany.
The

parish church [bottom left picture] is located on a hill in the northern part of the market square. The

town hall next to the church was built in the first half of the 19th century.
The country inn

Liebchensruh [bottom right picture] is located on the opposite side of the lake in the area of the village of Możne, today part of the municipality of Olecko.

[http://de.wikipedia.org/wiki/Olecko, http://en.wikipedia.org/wiki/Olecko, http://books.google.at/books?id=JhzWmLORVmUC&pg=PA256&lpg=PA256&dq=marggrabowa+rathaus&source=bl&ots=tEdkvMULb2&sig=oEId0dXvVUiLfAJHEvbCQS4r2BE&hl=de&sa=X&ei=F2D2Uan2H7Sa4gSco4HIBg&ved=0CFAQ6AEwBg#v=onepage&q=marggrabowa%20rathaus&f=false]

---