• bg, mk, sr: 
Храдец Кралове

Hradec Králové is situated at an elevation of 224 m at the confluence of the rivers Labe (Elbe) and Orlice (Adler) in East Bohemia. As one of the first places in Bohemia, it obtained the status of a town already prior to 1225. At that time the town was called Hradec or Grätz. During the 13th century, Hradec/Grätz rapidly gained importance and soon was the second-largest and richest town after Prague. The name was changed to Hradec Králové (Königgrätz) when it became a dowager town of the Bohemian queens. In 1337, it obtained the status of a Royal town.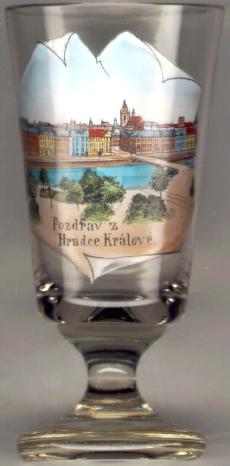 A famous chapter in the history of Hradec Králové was the Hussite period. In 1420 it became a Hussite town and a year later it welcomed the famous Hussite military leader Jan Žižka of Trocnov (who after his death in 1424 was buried in the church of the Holy Spirit). The new period of development was halted when during the Thirty Years' War (1618–1648) Swedish troops attacked the town and occupied it in 1639. The former bishopric of Litomyšl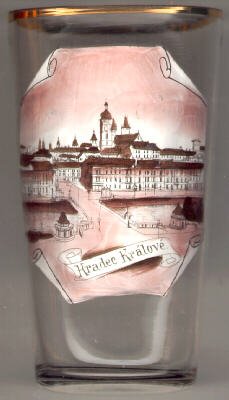 was transferred to Hradec Králové in 1664; until 1956, 22 bishops resided here. During the 18th century, Hradec Králové was tramsformed into a fortress. The citadel, built in 1766–1789, however, never fulfilled expectations. After the 'Battle at Hradec Králové/Königgrätz' (more precicely at Chlum near Sadova) ended with a defeat of the Austrian army by the Prussian troops in 1866, the fortress was abandoned in 1884 and the fortifications were torn down during the following 20 years. During the early 20th century, the modern development of the town was shaped by a new urban conception. As a number of renowned architects were entrusted with the planning and building works, Hradec Králové soon became known as 'the Salon of the [Czechoslovak] Republic'.
One of the best-known sights of Hradec Králové is the

White Tower [left, no. 296, and right, no. 452: background centre; below, no. 2417: background right]. The Renaissance tower (68 m high) was built in 1574–1580 and holds Bohemia's second-largest bell, named 'Augustin'.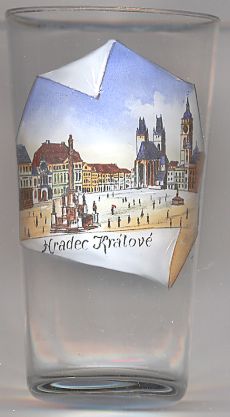 The

cathedral of the Holy Spirit [left, no. 2417: background] was founded in 1307. Most of the building was created in 1339–1360, the choir was added in 1463. Treasures of the church are a tin baptismal font of 1406 which originally stood in the monastery of Podlažice, the organ loft of 1463, and a late Gothic altar from the late 15th century. The main altar in Gothic revival style was created in 1940. The bells in the church towers are also of historical value: the two largest ones are 'Orel' ('the eagle') from 1496 and 'Žebrák' ('the beggar') from 1538.
The

Plague Column (Marian Column) [left, no. 2417: foreground], standing in the centre of Žižkov Square, dates from 1714–1716 and was erected in gratitute for the deliverance of the pestilence.

---