If you came to this page directly and do not see a navigation frame on top, please go to the home page.
| | |
| --- | --- |
| ČESKÁ REPUBLIKA | CZECH REPUBLIC |
| Jihočeský kraj | South Bohemia (České Budějovice) region |
| Okres: Český Krumlov | |
map →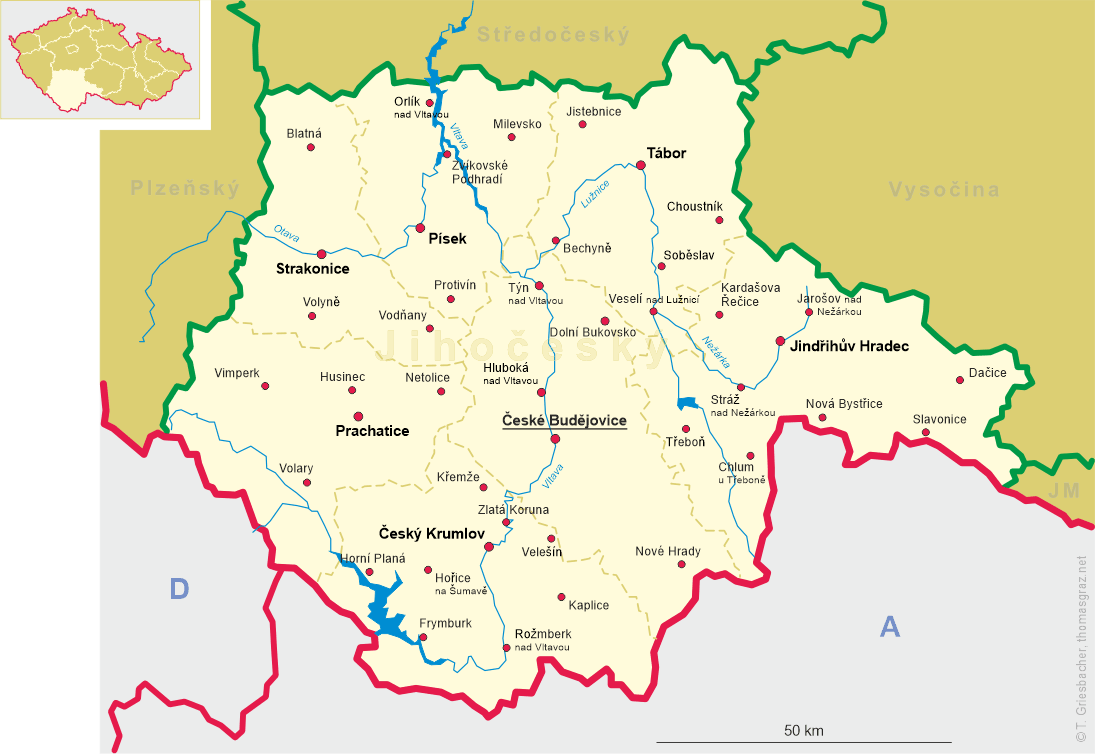 Zlatá Koruna
• de: Goldenkron
• sr: Злата Коруна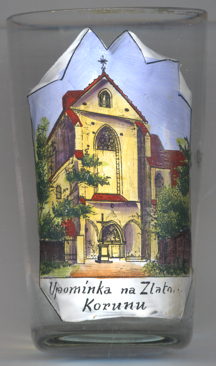 Zlatá Koruna is situated at an elevation of 473 m in a sinuosity of the river Vltava in South Bohemia, about 6 km northeast of the district toen Český Krumlov. The municipality has a population of 724 (2014).
The origin of Zlatá Koruna goes back to the Cistercian monastery founded here in 1263. When the monastery was dissolved in 1785, the meyerhof (seat of the farm administration) of the monastery and its settlment were recognised as a village. After the abolition of manorialism in 1848, the village became a municipality (German name: Goldenkron) in the district Krumau (Český Krumlov). After World War I, Zlatá Koruna became part of Czechoslovakia. Between 1939 and 1945 it was assigned to the district Budweis (České Bedějovice) within the Protectorate of Bohemia and Moravia of Nazi Germany. After World War II it was returned to Czechoslovakia; the remaining German population was expelled in 1946.
The

monastery of Zlatá Koruna was founded in 1263 by King Přemysl Otakar II of Bohemia. The monastery was completed in 1291 under Otakar's successor Wenceslaus II. After a large fire the monastery Heiliger Chron (later in German: Goldenkron) was rebuilt in 1354. In 1493 the lords of Rosenberg (Rožmberk nad Vltavou) came in possession of the patronage over the monastery. Although the monastery attempted repeatedly to regain the full control over the its domains, neither the Rosenbergs, nor their successors, the Eggenbergs and the Schwarzenbergs, conceded to this. The monastery was dissolved in 1785 and later was sold to the princes of Schwarzenberg who used the monastery for various industrial purposes. The last of the remaining factories went bankrupt in 1909, and renovation works began in 1915. In 1940, the complex was confiscated by the Gestapo. After a through renovation, the monastery since 1979 is home of the Scientific State Library of České Bedějovice.
[https://de.wikipedia.org/wiki/Zlatá_Koruna]

---