If you came to this page directly and do not see a navigation frame on top, please go to the home page.
| | |
| --- | --- |
| ČESKÁ REPUBLIKA | CZECH REPUBLIC |
| Středočeský kraj | Central Bohemia region |
| Okres: Beroun | |
map →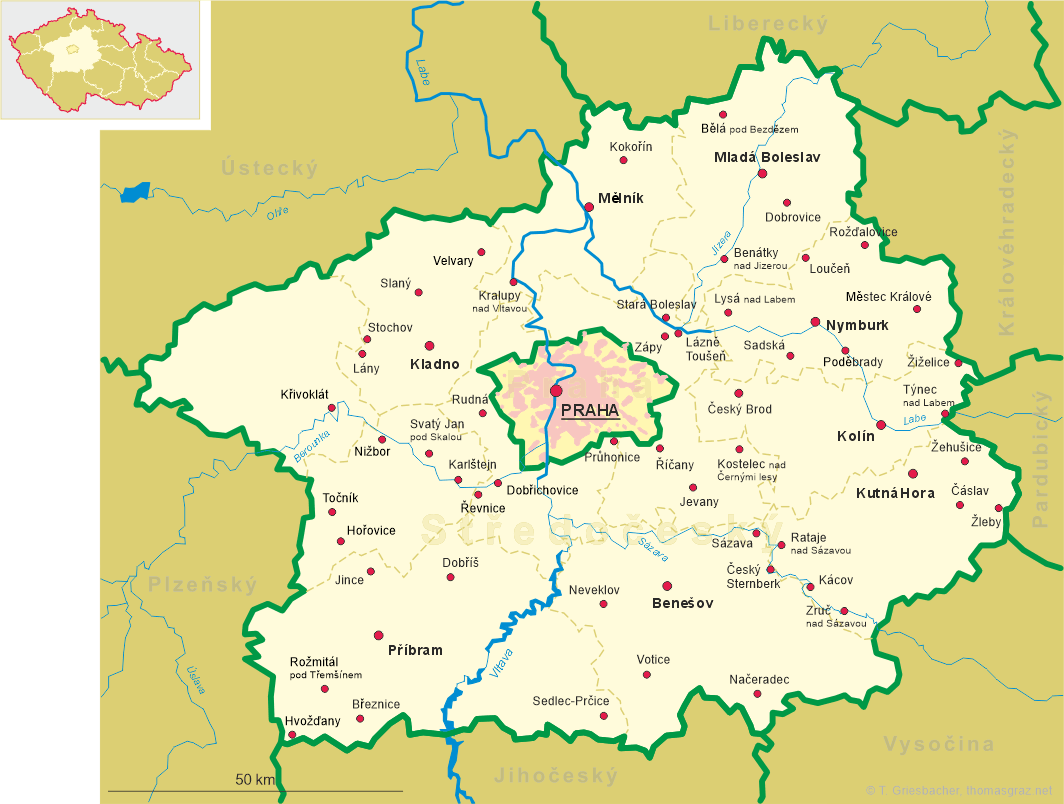 Svatý Jan pod Skalou
• de: Sankt Johann unter dem Felsen
• sr: Свати Јан под Скалом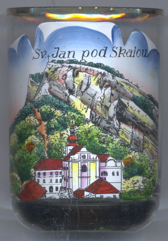 Svatý Jan pod Skalou is situated at an elevation of 233 m on the river Loděnice in the Český kras (Bohemian karst) region about 4 km east of the district town Beroun in Central Bohemia. The place is a well-known pilgrimage site. the municipality has a population of 169 (2017).
The oldest document mentioning the place dates from 1037 when the chapel of St. John the Baptist in the Cave was donated by the Bohemian Duke Břetislav I to the Benedictine monastery Ostrov. The cave was said to have been the ermitage of St. Iwan, and this became the origin of the pilgrimage site. In 1310 the Ostrov monastery founded a priory, which, after the dissolution of Ostrov monastery, obtained the rank of an abbey. The abbey was dissolved in 1785.
The

church of St. John the Baptist (kostel sv. Jana Křtitele) [foreground centre] was rebuilt in 1657–1661 according to plans of the famous architect Carlo Lurago; in 1710 it received a new vaulting by Christoph Dientzenhofer.
Other places named
Sankt Johann
('St. John') of which there are glasses in this collection:
Sankt Johann bei Herberstein in Styria
, Austria,
Sankt Johann im Pongau
, Salzburg, Austria,
Sankt Johann in der Haide
, Styria, Austria;
Sankt Johann, part of
Saarbrücken
, Saarland, Germany.
[https://de.wikipedia.org/wiki/Svatý_Jan_pod_Skalou]

---