If you came to this page directly and do not see a navigation frame on top, please go to the home page.
| | |
| --- | --- |
| ČESKÁ REPUBLIKA | CZECH REPUBLIC |
| Vysočina | Highlands (Jihlava) region |
| Okres: Havlíčkův Brod |   |
map →
Habry
• de: 
Habern
• ru: 
Габри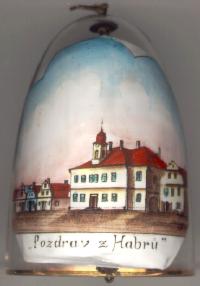 Habry is situated at an elevation of 468 m in the Bohemian-Moravian mountains at the source of the Sázavka river which is located at the southeastern edge of the town.
Habry (German: Habern) was first mentioned in 1207 in the Chronica Boemorum of Cosmas of Prague. As Habry was located at the main route from Prague to Havlíčkův Brod and to Moravia, it was granted the status of a market town in 1351 by Emperor Karl IV. Jan Žižka defeated the army of Emperor Sigismund near Habry in 1421. After the abolition of patrimonial ownership Habry in 1850 became the seat of a court circuit within the political district of Čáslav (Tschaslau). In 1909 Habry obtained the status of a town. However, when the local tax office was closed after World War I and the court circuit was dissolved after World War II it lost most of its local importance. In 1950 Habry only had about half the population that it had had in the late 19th century. After the loss of the town status further offices of public authorities were moved out. In 1990 Habry finally could regain the status of a town.
The

town hall [left] was built at the turn of the 18th to the 19th century.

---