If you came to this page directly and do not see a navigation frame on top, please go to the home page.
| | |
| --- | --- |
| DEUTSCHLAND | GERMANY |
| Bundesland: Freistaat Bayern | Bavaria |
| Regierungsbezirk: Oberfranken | |
| Landkreis: Hof | |
map →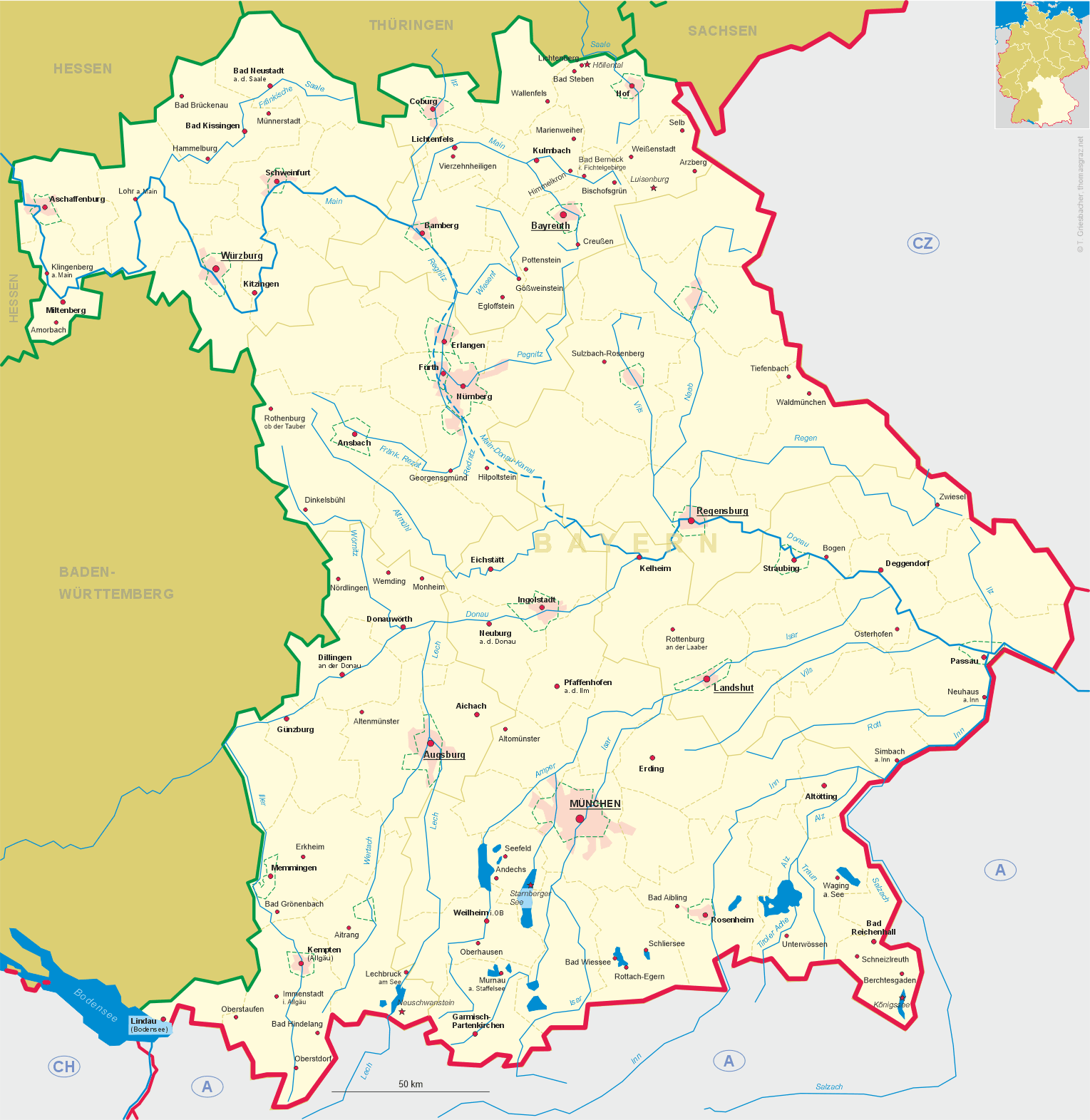 Bad Steben
• ru: Бад-Штебен
Bad Steben is situated at an elevation of 600 m in the Frankenwald region of Oberfranken in the North of the state of Bavaria. It was first mentioned in a document of 1374. The first mentioning of the mineral springs date from 1444. Between 1450 and 1550, Steben was a centre for mining in the Frankenwald mountain region. The first attempt of a scientific description of the mineral waters was published in 1690. A second mineral spring was mentioned in 1729. The first spa hotel was opened in 1788, but it was converted into a mining office building in 1788. After the death of the last margrave of Brandenburg-Bayreuth in 1769, the margarviate fell to Brandenburg-Ansbach. After the abdication of Margrave Karl Alexander of Brandenburg-Ansbach in 1791, Steben came into possession of Prussia. In 1793, the Royal Free Mining School of Steben was founded by Alexander von Humboldt. Steben was occupied by French troops in 1806. In 1810, it became part of Bavaria. In 1832, the spa was sold to the Bavarian state. The first spa buildings were built in 1837/38. In 1952, Steben obtained the status of a market town. The state-owned casino of Bad Steben opened in 2001.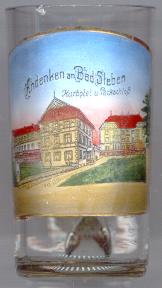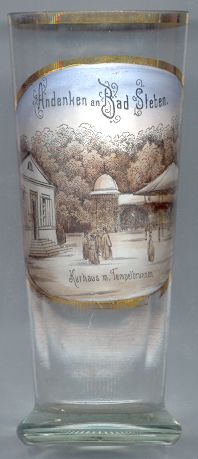 The

Kurhotel [left] was opened in 1892, the

Parkschlösschen hotel [to the right of the Kurhotel] opened in 1902.
The three mineral springs that are used for the therapeutic cures are called

Tempelquelle [right, no. 1057; and below, no. 1883: bottom left],

Wiesenquelle [below, no. 1883: bottom right], and Max-Marien-Quelle (named in 1851 for King Maximilian II of Bavaria and his wife, Queen Marie).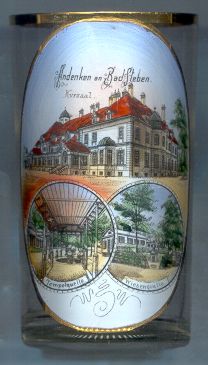 The top picture on glass no. 1883 [left] shows the

Kursaal.

---