| | |
| --- | --- |
| SLOVENSKO | SLOVAKIA |
| Trenčiansky kraj | Trenčín region |
| okres: Trenčín | |
map →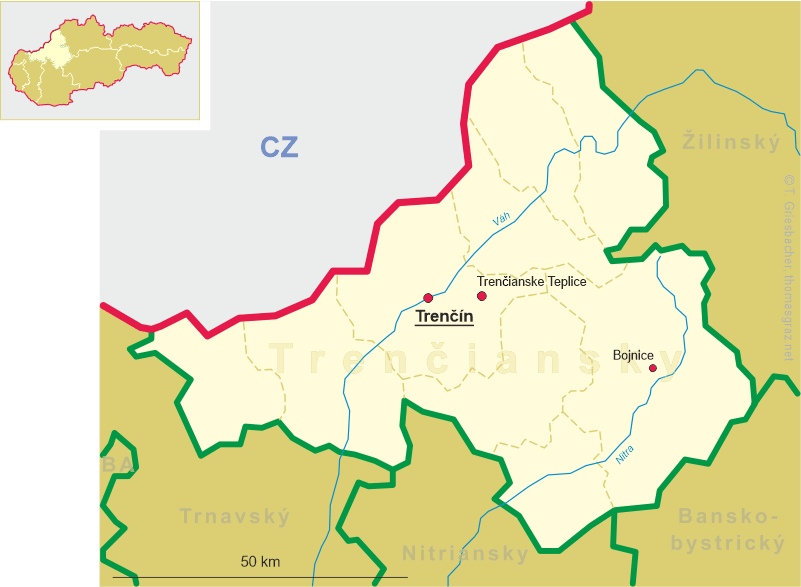 Trenčianske Teplice
• lv: Trenčanske Teplice
• hu: Trencsénteplicz
• pl: Trenczyńskie Cieplice
• de: Trentschin-Teplitz, Trentschiner Bad
• sr: Тренчинске Тјеплице
• ru: Тренчьянске Теплице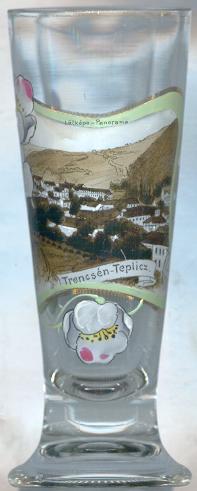 Trenčianske Teplice is situated at an elevation of 268 m on the river Teplička. The hot springs of Trenčianske Teplice probably were already known in Roman times when a legion was stationed at the camp Laugaricio, today Trenčín. The first mentioning in a document dates from 1242. From 1582 until 1835 the spa was in possession of the Hungarian aristocratic Illesházy family. In 1835 it was bought by the financier Baron Georg Simon Sina (the strongest rival of the Rothschild family in Austria around 1850). The popularity of the spa increased further at the end of the 19th century. The Hungarian novelist Mór Jókai (1825–1904) called the town the "Pearl of the Carpathians".
The mineral springs of Trenčianske Teplice supply waters with temperatures of 37–40°C and are used for the treatment of disorders of the locomotor system and nervous system diseases.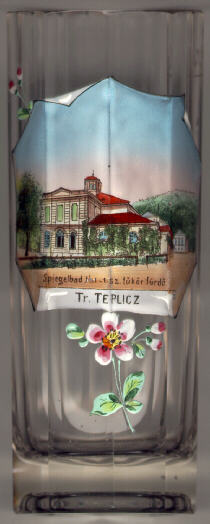 Glass no. 057 [ner left] shows a view of the

Mirror Bath (labeled in German: Spiegelbad, and in Hungarian: tükör fürdő). The bath house was built in 1871. In a 'mirror bath', the waters of a thermal spring are directly fed to the pool where patients were immersed up to their neck to experience the relaing effects of the thermal waters. The mirror bath is operating until today under the name 'Sina'.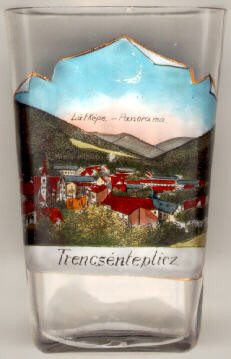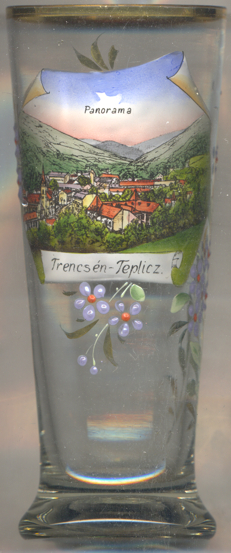 [http://www.slowakei-net.de/slowakei-forum/viewtopic.php?t=359]

---