| | |
| --- | --- |
| ÖSTERREICH | AUSTRIA |
| Bundesland: Kärnten | Carinthia |
| Stadt: Villach | |
map →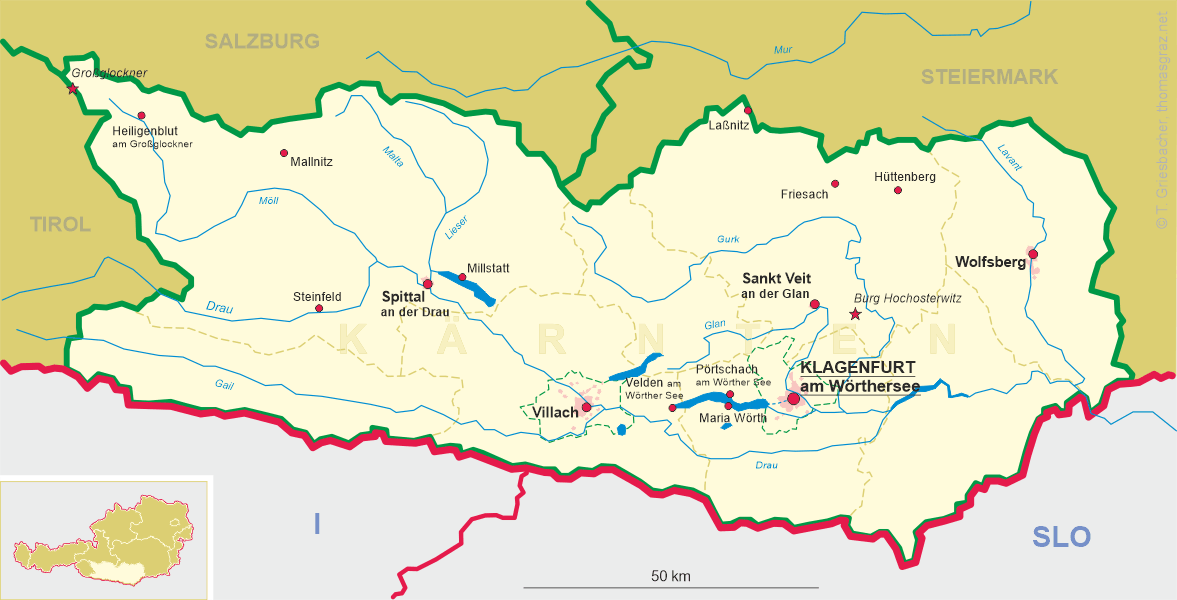 Villach
• cs: Bělák
• sl: Beljak
• lt: Filachas
• lv: Fillaha
• it: Villaco
• el: Φίλλαχ
• bg, mk, sr: Филах
• ru: Филлах
• be: Філах
• uk: Філлах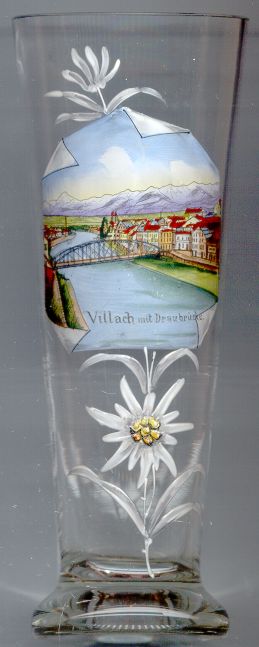 Villach was first mentioned in a document of AD 878 (as pons Uillah). However, already the Romans had built a settlement called Santicum here. In 1240 the place is mentioned as a town. From 1005 Villach was in possession of the Diocese of Bamberg until 1795 when it was bought by Austria. Trading and mining were the cause for economical growth in the late 15th and the 16th century. A second period of growth was initiated in 1864 when Villach was connected to the railway lines. During World War II Villach suffered extensive damages. In 1973 the town's boundaries were extended to the lakes Faaker See and Ossiacher See. The thermal springs (Warmbad Villach, radon-containing water of 28–30°C) have been known for centuries and are one of the important spas of Austria.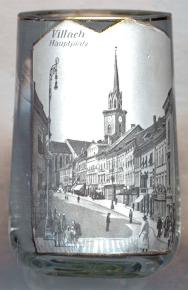 The

parish church Heiliger Jakob (St. James the Greater) [left, no. 2210, and right, no. 604: background] was first mentioned in 979 and 1137. Following the destruction of the older church by an earthquake in 1348 the present Gothic church was built between 1370 and 1482. The basal parts of the church tower date from around 1300, the upper part was erected in 1759 and received its final height (95 m) in 1847/48. The chancel contains a fresco with the image of St. Christopher from the late 15th century attributed to Thomas von Villach (Thomas Artula).
The monument depicted in the foreground of glass no. 2210 [near left] is the Baroque

Trinity Column, created around 1680. After the victory in 1683 over the Turks at Vienna, a crucifix and a crescent were added to the sculptures on the column. In 1965 the column was moved from its original location on Heiligengeistplatz to the square Alter Platz.
The

pilgrimage church Heiligenkreuz [right, no. 527] was built 1726–1744 in Late Baroque style. The centre of the church is formed by a domed octogon. The west façade is flanked by two towers, the pilgrimage originated in 1708 when, according to a legend, a painting of a crucifix turned three-dimensional. During a restoration of the church 1960/61 new frescos were added to the ceilings of nave, transcept and dome.

---