| | |
| --- | --- |
| ROMÂNIA | ROMANIA |
| județ Timiș | Timiș County |
map →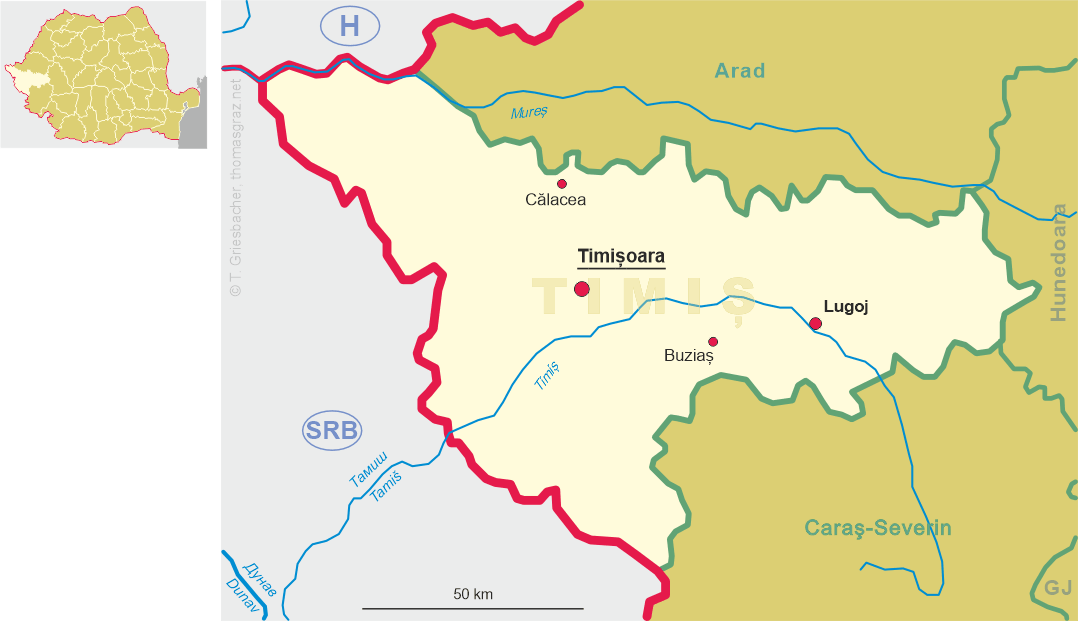 Timișoara
• hu: Temesvár
• tr: Temeşvar
• cs, sk: Temešvár
•
de: Temeswar, Temeschwar, Temeschburg •
de: Temeszwar •
hr: Temišvar
•
el: Τιμισοάρα
•
mk, sr: Темишвар •
bg, ru: Тимишоара •
uk: Тімішоара •
be: Тымішаара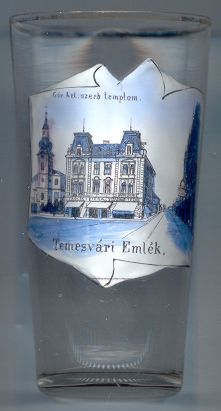 Timișoara is situated at an elevation of 91 m on the Bega canal in the centre of the plain of the rivers Timiș and Bega and is the administrative capital of Timiș county and the economic centre of the Banat region. The earliest references of this place in documents date back to the 12th century, the first direct mention (Castrum de Tymes) dates from 1266. In 1552 it was conquered by the Turks and remained part of the Ottoman empire for 164 years. In 1716, it was reconquered by the Austrian troops under Prince Eugène of Savoy and became part of the Habsburg countries. In order to reinforce the whole region, the Austrian monarchs (Emperor Karl VI, Queen Maria Theresia and Emperor Joseph II) called in German-speaking settlers (the so-called "Swabians of the Banat"). Three waves of settlers colonised the Banat between 1722 and 1786 (until 1944, the German population amounted to about 35%). The Bega canal as a navigable river branch was constructed between 1728 and 1771. The Banat region was formally integrated into the Kingdom of Hungary in 1778/79. In 1781, Timișoara (or Temesvár in Hungarian) received the status of a free royal city, which meant that it obtained economic freedom and was directly represented in the diet of Buda (today Budapest). Occupied by Serbia in 1919, Timișoara became part of Romania in 1921 after the Treaty of Paris (Trianon). Today, Timișoara is the seat of Timiș County; with a population of about 319,300 (2011) it is the third-largest city of Romania (after București and Cluj-Napoca). Timișoara was chosen as a European Capital of Culture for 2021 (together with Novi Sad, Serbia; see list of other European Capitals of Culture depicted on glasses of this collection).
The Baroque

Serbian Orthodox church of St. George [left] in Traian Square was built in in 1745–1753. The glass is labeled in Hungarian "Gör[ök] kel[eti] szerb templom" (Greek Oriental Serbian church) and Temesvári emlék (souvenir from Temesvár).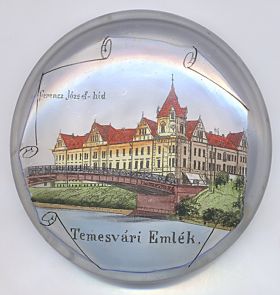 The picture on glass no. 2276 [near left] shows a view of the

Francis Joseph Bridge (labeled in Hungarian "Ferencz József híd"). The bridge is named for the Austrian Emperor Franz Joseph I (r.1848–1916).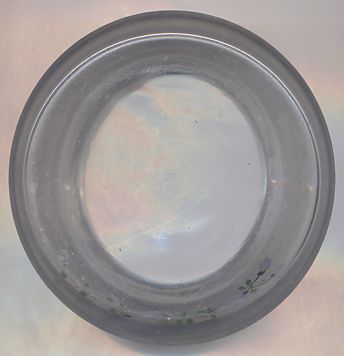 ---