| | |
| --- | --- |
| ROMÂNIA | ROMANIA |
| județ Cluj | Cluj County |
map →
Cluj-Napoca
• tr: Kaloşvar
• de: Klausenburg
• cs, sk: Kluž
• pl: Kluż-Napoka
• lv: Kluža-Napoka
• lt: Klužas
• hu: Kolozsvár
• el: Κλούζ-Ναπόκα
• be, bg, mk, ru, sr, uk: Клуж-Напока
Cluj-Napoca stands on the site of an ancient Dacian settlement, Napoca, which the Romans made a 'municipium' in 120 AD which latre became the capital of the Roman province of Dacia Porolissum. In the Middle Ages the name was Culus as mentioned in documents of 1173. The modern name Cluj goes back to the name which was used during the 15th century (Clus) which is derived from the Latin word clusum as the town is surrounded by hills. In 1405 Cluj obtained the status of a free town. Cluj was the capital of Transylvania which became a Grand Principality under Empress Maria Theresia in 1765. It was joined with Hungary in 1790 by Emperor Joseph II. In 1849 it became an independent crown country, but was again incorporated into the Kingdom of Hungary with the creation of the Dual Monarchy in 1867. After the breakup of Austria-Hungary in 1918 Transylvania became part of Romania in 1920 according to the Treaty of Paris/Trianon. In 1940, Germany and Italy, by the Second Vienna Award, compelled Romania to hand over to Hungary half of Transylvania (the so-called Northern Transylvania) including Cluj. Northern Transylvania remained part of Hungary until 1944/1945. The Paris Peace Treaties of 1947 returned the territory to Romania. In 1974 the name Cluj was changed to Cluj-Napoca.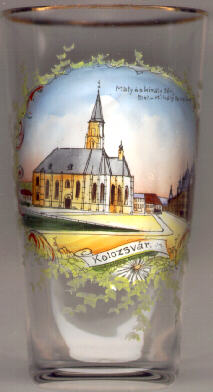 The

church of Saint Michael (Biserica Sfântul Mihail) was built between 1350 and 1480. Together with the Black Church of Brașov it is the largest church in the former Transilvania. It is famous for its magnificent star-shaped vaulting and the Renaissance portal of the vestry from 1528. The oldest part of the church is the altar of 1390. The Neo-Gothic north tower was added in 1860.
The large square was named after King Matthias Corvinus (Romanian: Matei Corvin; Hungarian: Mátyás Hunyadi) during the Austro-Hungarian Monarchy (Mátyáskirály tér, as inscribed on the glass), later its name was Unity square (Piața Unirii) and today it is called Liberty square (Piața Libertății). Since 1902 a statue of Matthias stands on the square [not depicted on the glass]. He was born in Cluj in 1443 as son of the romanian noble Hunedoara family and became King of Hungary in 1458 and King of Bohemia in 1469. He challenged Emperor Friedrich III, who also claimed the Hungarian throne, and in 1458 he conquered Vienna where he died in 1490. After his death his son Maximilian I reconquered Austria and claimed the thrones of Hungary and Bohemia which he finally obtained in 1515.

---