| | |
| --- | --- |
| DEUTSCHLAND | GERMANY |
| Bundesland: Sachsen-Anhalt | Saxony-Anhalt |
| Landkreis: Harz | |
map →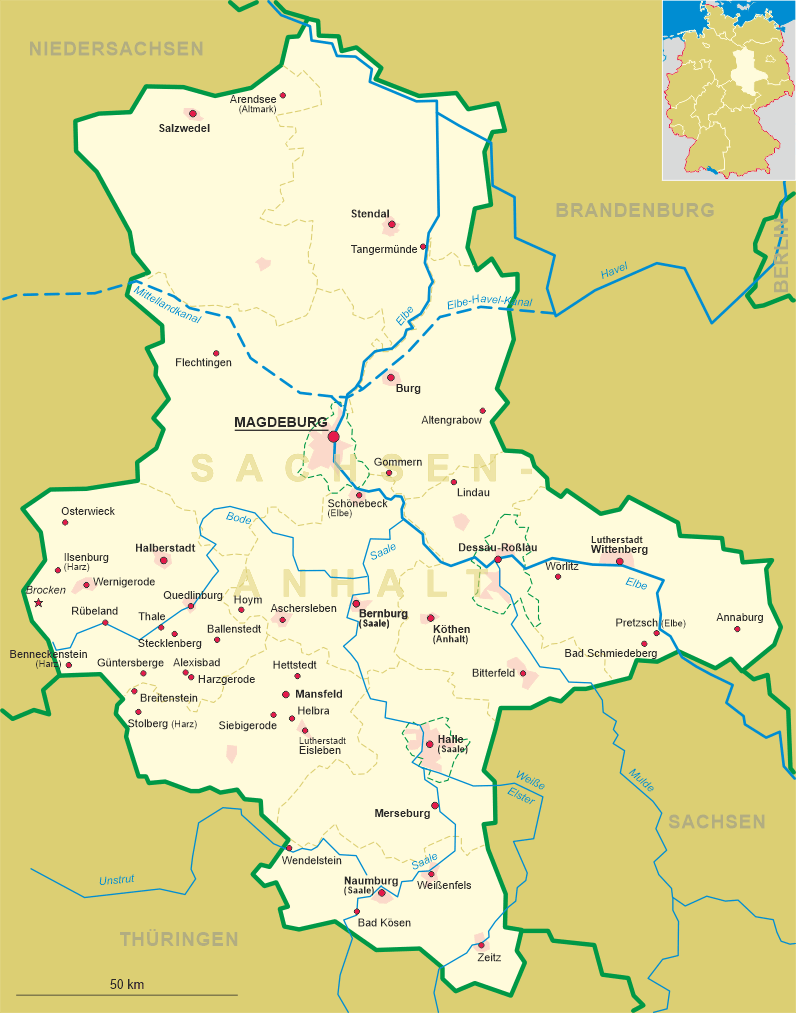 Quedlinburg
• lv: Kvedlinburga
• lt: Kvedlinburgas
• cs: Kvedlinburk
• pl: Kwedlinburg
• fr: Quedlinbourg
• bg, mk, ru, sr: Кведлинбург
• be, uk: Кведлінбург


Quedlinburg is situated at an elevation of 130 m in the Bode valley of Sachsen-Anhalt. The castle Quetilingaburg, mentioned in 922 AD, was one of the most favoured residences of the early German kings. When King Heinrich I died in 936 AD he was buried in the chapel of the castle, which then was given to a newly founded secular nunnery. The nunnery, immediate to the empire, remained in possession of Quedlinburg until the secularization of 1802. The protestant faith was introduced in Quedlinburg in 1539. After 1802, Quedlinburg was part of Prussia, only between 1807 and 1813 it belonged to the Napoleonic Kingdom of Westfalia. In 1803 parts of the nunnery, now a castle in possession of the Prussian state, collapsed. Since 1929, the former nunnery belongs to the municipality of Quedlinburg. The town of Quedlinburg was listed as a World Cultural Heritage by the UNESCO in 1994 (see also list of other UNESCO heritage sites). On the 1st of July 2007 the districts Halberstadt, Quedlinburg and Wernigerode, and the city of Falkenstein/Harz (former district Aschersleben-Staßfurt) were merged; the seat of the new district Harz is in Halberstadt.
The former

monastery church Sankt Servatius [left, no. 1376: bottom left picture; and right, no. 3838] is the fourth church on this site. It was consecrated in 1129 and is one of the most important examples of Romanesque architecture in Germany. The chancel was rebuilt in Gothic style in 1320. Its interior was remodelled in Neo-Romanesque style in 1938. The two tall spires, as depicted on the glass, were built at the beginning of the 19th century. In 1938, the church was transformed into a Nazi 'sanctuary', and was returned to the parish in 1945. After 1945 the tall roofs were replaced by much shorter, simple tent-shaped roofs. The crypt still holds the tombs of King Heinrich I (d. 936) and his wife, Queen Mathilde (d. 968). The world-famous treasures of the church, mostly dating from the medieval period, were exhibited in public for the first time in Berlin in 1992 and returned to Quedlinburg in 1993.
The

soldier's monument 'Mars-la-Tour' [bottom right] was created by Richard Leopold Oskar Anders, sculptor from Quedlinburg. The monument was unveiled in the park near the railway station on 27 october 1895 but was removed after World War II and melted down in 1946. The monument commemorated the Battle of Mars-la-Tour/Vionville, one of the largest battles in the Franco-Prussian War of 1870/1871.
[http://www.reiterhof-4eichen.de/wilhelm_rahmsdorf.htm]
Born in Quedlinburg were:
Dorothea Christiane Erxleben (1715–1762) who graduated at the university of Halle in 1754 as the first German female doctor of medicine.
The poet Friedrich Gottlieb Klopstock (1724–1803).
The geographer Carl Ritter (1779–1859).
The writer and geographer Johann Christoph Friedrich GutsMuths (1759–1839).

---