The

Ständehaus ('Estates House') [near left, no. 3707] was built in 1889–1893 in Historistic style by the architect Gotthilf Ludwig Möckel from Schwerin. It was used as a parliament building by the Mecklenburg estates. Following the November Revulation in 1918, the estates were dissolved and the building served diverse public purposes. During the period of the German Democratic Republic it was used as clubhouse for the Volksmarine, the GDR naval force. Since 1992 it is the seat of the Oberlandesgericht Rostock (Rostock Court of Appeal).
[https://de.wikipedia.org/wiki/Wallstraße_(Rostock), https://de.wikipedia.org/wiki/Oberlandesgericht_Rostock]

Warnemünde
• lv: Ujście Warnawy
• bg, ru, uk: Варнемюнде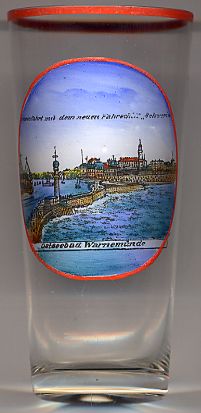 Warnemünde (in German meaning 'Warnow mouth') is a sea resort and the northmost district of Rostock, situated on the Baltic Sea at the estuary of the river Warnow. Founded in about 1200, Warnemünde was for centuries a mere fishing village with minor importance for the economic and cultural development of the region. In 1323 Warnemünde lost its autonomous status as it was purchased by the city of Rostock in order to safeguard the city's access to the Baltic Sea. It was not until the 19th century that Warnemünde began to develop into an important sea resort. Today Warnemünde has approximately 8,400 inhabitants.
[Text adapted from http://en.wikipedia.org/wiki/Warnemünde]
The

ferry "Schwerin" [far left, barely visible] was commissioned in 1926 and operated on the route from Warnemünde to Gedser, Denmark. It was frequently advertised as "the White Swan of the Baltic Sea". Spacious lounges, restaurants and a promenade deck for passengers made the trip especially enjoyable. At the beginning of World War II the "Schwerin" was used by the German Navy for a short period of time before it returned to its comemrcial service. During the occupation of Denmark by the Wehrmacht, parts of the invasion troops were transported by the "Schwerin". With the occupation of Rostock and Warnemünde by Soviet troops of the ferry service was discontinued. After the ferry service was resumed in 1947 by the Deutsche Reichsbahn, it was at first tried to reactivate the "Schwerin", but the plans were abandoned.
Several glasses of this collection show other ships.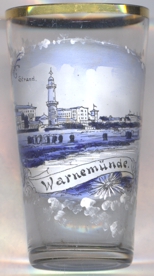 The

Warnemünde Lighthouse [left] is situated on the estuary of the Warnow river. In 1862 it was decided to replace the old 8-metre-high stormlamp in Warnemünde with a new lighthouse. The construction of the lighthouse was officially approved in 1863, however, as a result of serious disagreement between its financiers, the town of Rostock, the district administrator (estates of the country: parliament of patricians and knights) and the Mecklenburg railways (the latter had owned the ferry boat route to Gedser in Denmark since 1886), the project did not actually start until 1897. It was commissioned one year later in October 1898. The lighthouse has a height of 36.9 metres. The lighthouse can be climbed by a granite spiral staircase. Until 1978 the lighthouse was run by a lighthouse keeper. Now the service has been centralized and is managed by the Sea Traffic Control Centre at Hohe Düne.
---