| | |
| --- | --- |
| DEUTSCHLAND | GERMANY |
| Bundesland: Freistaat Sachsen | Saxony |
| Landkreis: Mittelsachsen | |
map →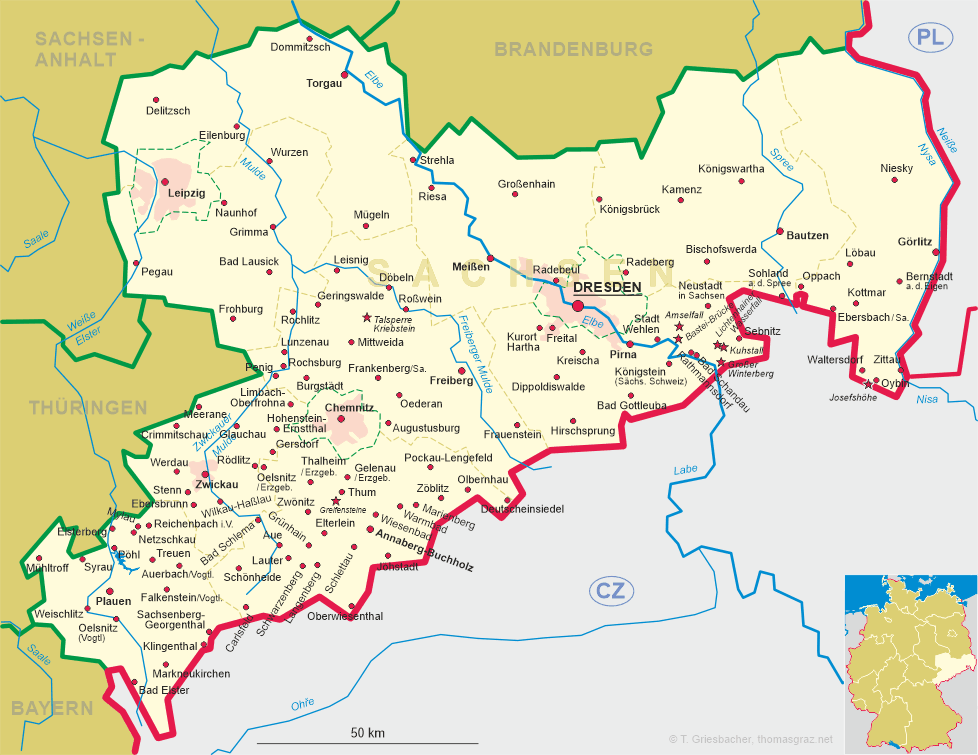 Rochlitz
• ru: Рохлиц
Rochlitz is situated at an elevation of 171 m on the river Zwickauer Mulde in western Saxony. The area was first settled by Slavic settlers during the 7th century. The oldest document mentioning a castle at this place ("burgward rochelenzi") dates from 995. The settlement below the castle began to develop in the 12th century and soon was chartered as a town. During the 13th century textile industry and quarrying of porphyry tuff were the main sources of income for the town. The wealth of Rochlitz declined after the Thirty Years' war (1618–1848) and in 1682 it became a garrison town. During the 19th century Rochlitz became a cultural centre of the region. In 1872 it was connected to the Saxon railroad system. Since 1997 Rochlitz has the official status of a major district town.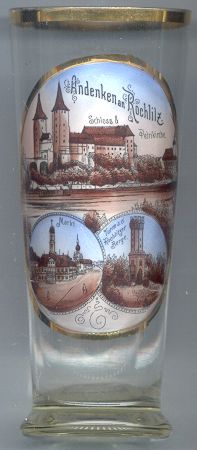 The

castle [top picture] at the foot of the Rochlitz mountain was first mentioned in 995 ("burgward rochelenzi") but it must have existed already at the beginning of the 10th century. The present castle mainly dates from the early 16th century (1525). Five times during the 15th and 16th centuries the castle was chosen as a residence of the Saxon Wettin dynasty. Until the Thirty Years' War the castle also served as a fortress. During the war, in 1645, the outer fortifications were destroyed and their ruins were finally torn down in 1717.
The

Petrikirche (church of St. Peter) [top picture, far right, barely visible] is the oldest church of Rochlitz. It was first mentioned in 1186 but other sources suggest that it must have existed already at least since 1018. The present church dates from the late Gothic period; the choir was begun in 1470, the nave and vaulting was completed in 1499. During a renovation in 1892/94 some details were removed, unfortunately also including an organ, which had been built by the famous Gottfried Silbermann in 1727.
The

Town Hall [bottom left] on the market square in the center of Rochlitz was rebuilt in 1828.
The

Kunigundenkirche [bottom left picture, background right, barely visible] was erected in late Gothic style in place of an older church of the late 12th century. The late Gothic choir was begun in 1417 and is unique in all Saxony. The nave and its vaulting were completed in 1476. The central west tower and its smaller flanking towers were built after a large fire in 1681. Treasures of the church are the carved main altar of 1513 and another folding altar of 1521.
The

lookout tower [bottom right picture] was built in 1855–1860 on the summit of the Rochlitzer Berg (353 m, 207 m above the Zwickauer Mulde river). The brick tower has a height of 27 m.
Johannes Mathesius (1504–1565), the first biographer of Martin Luther, was born in Rochlitz.
Another glass in this collection shows
Rokytnice nad Jizerou
in northern Bohemia (former German name:
Rochlitz an der Iser
).
---