| | |
| --- | --- |
| ITALIA | ITALY |
| regione: Veneto | Venetia |
| provincia: Belluno | |
map →
Cortina d'Ampezzo
• lld: Anpēz, Anpezo
• de: Hayden
• lt: Kortina d'Ampecas
• sr: Кортина-д'Ампецо
• ru: Кортина-д'Ампеццо
• uk: Кортіна-д'Ампеццо
Cortina d'Ampezzo, one of the world's most prominent winter sport resorts, is situated at an elevation of 1224 m in the Dolomite mountains of northern Italy.
Although it was believed until recently that the area had become inhabited only recently, new archeological discoveries suggest that the area had been roamed by hunters as early as 10–12,000 years ago. The oldest written traces of humans are ancient stone inscriptions of the Paleo-Veneti, dating from between the 6th/5th and 1st century BC. Although definitely present in the area, the Romans left remarkably few traces behind. Nevertheless the names Cortina and Ampezzo go back to Latin roots (Cortina to the Latin "curtis", and Ampezzo to the "Ampitium" valley). After the Roman period nothing is known about the area for nearly 8 centuries. The earliest documented mention of "Ampitium Cadubri" dates from 1156. While the area was still part of the territories of the patriarchs of Aquilea it already had gained some autonomy, laid down in several documents, one of which the "statuto Cadorino" of 1338. Around 1420 the area was annexed by Venice. In 1511 Ampezzo was conquered by Austria (officially recognized by the Treaty of Worms in 1521) while nearby Cadore remained part of the Venetian Republic. Even under Austrian rule, the Ampezzo region could retain some of its autonomy until 1780. In 1809 the town was besieged by French-Italian troops and was incorporated in 1810 into the Napoleonic Kingdom of Italy. In 1814 it was regained by Austria (Princely County of Tyrol). The Congress of Vienna in 1815 also brought the former Venetian Republic under Austrian rule as aprt of the Kingdom of Lombardy-Venetia. Although Venetia was lost by Austria in 1866, Ampezzo remained part of the Austrian countries until 1918. The completion in 1830 of the new improved "Allemagna" road from Innsbruck to Venice initiated the modern development of Cortina. Tourism became one of themost important factors for the town especially after the 1850's. It soon became known as the "Pearl of the Dolomites" and the "Queen of the Alps". After World War I Cortina became part of Italy and in 1923 was allocated to the province of Belluno. During the 1930's Cortina rose to become a booming centre of winter tourism. Olympic winter games were already scheduled to be held in Cortina in 1944, but the games were cancelled because of World War II. The Olympic winter games of Cortina were finally held in 1956.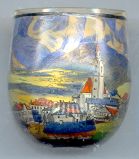 The

parish church San Filippo e San Giacomo [left] goes back to a church founded in 1208. The present church was completely rebuilt in 1768–1775, but still houses a couple of altars saved from the prior edifice. The campanile (bell tower, 76 m high) was rebuilt in 1858.
---