| | |
| --- | --- |
| ÖSTERREICH | AUSTRIA |
| Bundesland: Oberösterreich | Upper Austria |
| Bezirk: Freistadt | |
map →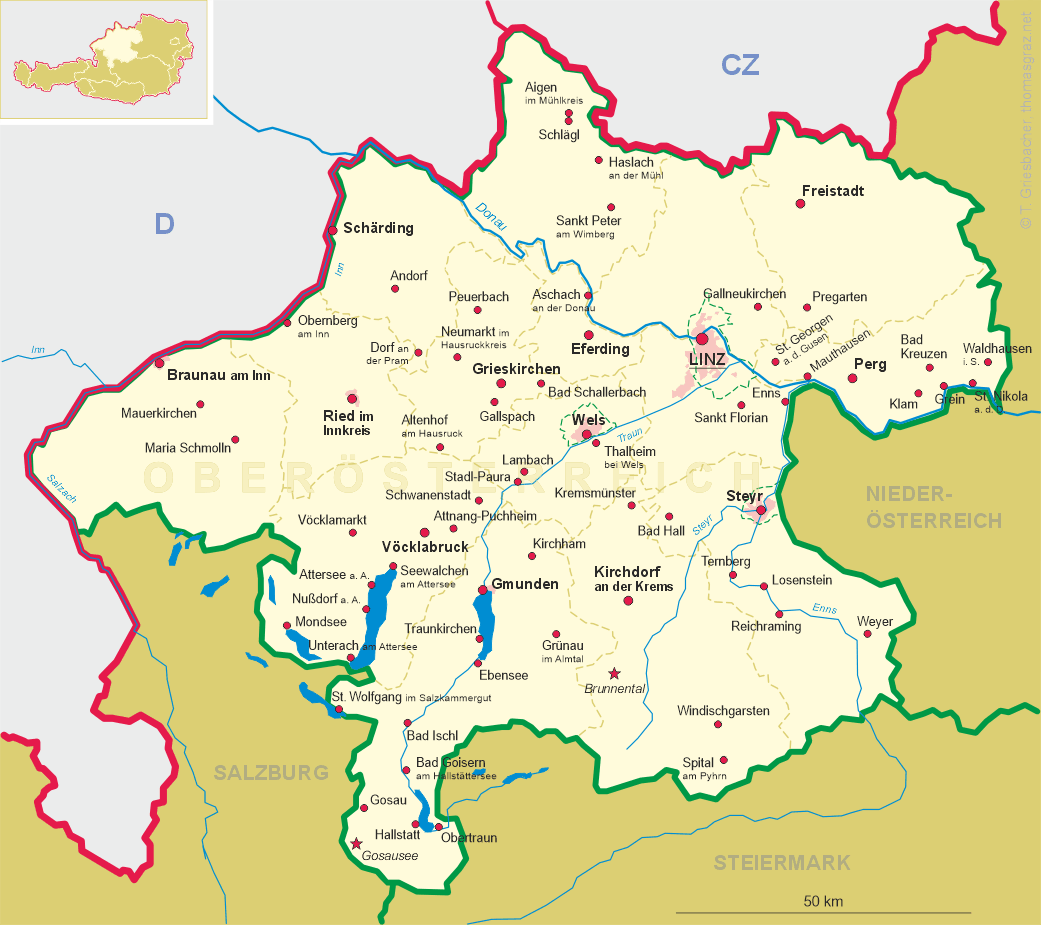 Freistadt
• prev.: Freistadt in Oberösterreich
• cs: Cáhlov
• lt: Freištadtas
• bg: Фрайщат
• ru, uk: Фрайштадт
• bg: Фрайщат
• sr: Фрајштат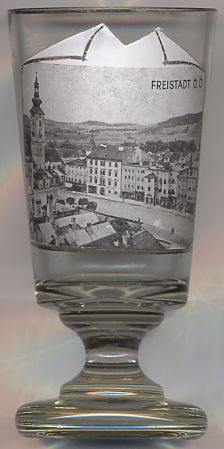 Freistadt is situated at an elevation of 560 m in the Mühlviertel region of Upper Austria. It is the principal town of the lower Mühlviertel and has a population of about 7,350 (2001).
During the early 13th century the town proper was founded by extended an existing settlement at one of the major trading routes to Bohemia. At the same time the new town, laid out on a regular ground plan, received a charter and the privileges of holding markets. Further privileges were granted in 1277 and 1363. The town prospered especially due to its activities in trading iron and salt, later also in trading beer and ply yarn. The current appearance of Freistadt was shaped when the town had to be rebuilt after the large fiers of 1507 and 1516. Even the medieval town centre, encircled by wall and moat, still exists today. Freistadt lost its importance after the Thirty Years' War (1618–1648) because it no longer was situated in a privileged border location. Although it was reduced to a mere proncial town, the many buildings of the Baroque period show that Freistadt was not poor. During the 18th and 19th century Freistadt developed into a regional centre of education and administration. In 1873 Freistadt became a garrison town and was connected to the railroad between Linz and Prague. During World War I Freistadt was the location of a large camp for Ukrainian prisoners of war. During World War II the town luckily did not suffer direct damages.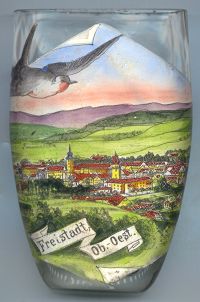 The

city parish church "Katharinenmünster" (minster church of St. Catherine's) [left, no. 2156: far left, and right, no. 1782: centre left] was originally built between 1483 and 1501 in late Gothic style with rich star and loop-ribbed vaultings. In 1520–1522 the church was rebuilt as a five-naved basilica, which in 1690 was remodeled in Baroque style by Carlo Antonio Carlone. The church tower has a height of 67 m. In 1877 the minster was remodeled in Gothic revival style.
The

castle [right, no. 1782: centre right] was built in 1397/1398 in place of an older fortress. The castle keep has a height of 50 m and today is home of the "Freistädter Schlossmuseum" (Freistadt Castle Museum).

---