Holešovice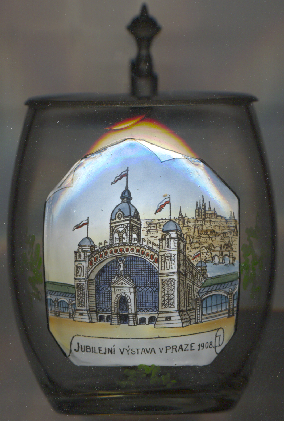 The

Jubilee Exhibition of the Commerce and Trade Chamber took place in the fair grounds of the Holešovice district in Prague in 1891, marking the 100th anniversary of the first Prague industry exhibition of 1791, which had been the first on the European continent. Another Jubilee exhibition took place here in 1908, marking the 60th anniversary of Emperor Franz Joseph I as a monarch. After the end of the exhibition most of the buildings were dismantled.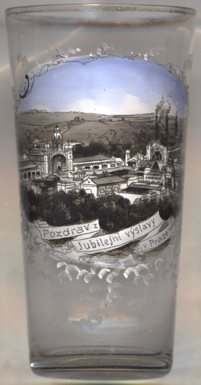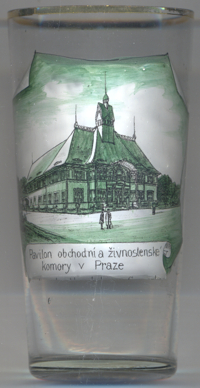 The

Palace of Industry (Průmyslový palác) [far left, no. 3968, and near left, no. 3857: background left] was created in Baroque revival style with elements of early Art Nouveau style by the architect Bedřich Münzberger. Its most prominent features were a steal arch construction with a length of 238 metres and a tower with a height of 51 metres. The building still stands today, just the entire left wing was destroyed by a fire in October 2008.
The building shown in the right background was the

machine hall (strojovna), the construction of which began in 1890.
Glass no. 3154 [right] shows a view of the

Pavilion of the Commerce and Trade Chamber in Prague (pavilon obchodní a živnostenské komory v Praze), one of the buildings created for the 1908 exhibition. The architect was Richard Klenka von Vlastimil (Klenka z Vlastimilu, Klenka of Vlastimil).

[Texts adapted from http://en.wikipedia.org/wiki/Prague, http://en.wikipedia.org/wiki/Charles_Bridge, http://en.wikipedia.org/wiki/Wenceslas_Square, http://en.wikipedia.org/wiki/National_Museum_(Prague), http://www.nm.cz/English/index.php, http://en.wikipedia.org/wiki/National_Theatre_(Prague), http://www.prague-info.cz/en/prague/monuments/st_nicholas_church_lesser_town, http://pubweb.northwestern.edu/~aro918/dictionary.htm, http://www.to-prague.com/prague_city_guide/monuments, http://en.wikipedia.org/wiki/Žižkov, http://en.wikipedia.org/wiki/Vyšehrad, http://en.wikipedia.org/wiki/Vyšehrad_cemetery, http://en.wikipedia.org/wiki/Czechoslovak_Hussite_Church; http://www.sberatel-ksk.cz/clanek-prazska-jubilejni-vystava-1908-2008050004; https://en.wikipedia.org/wiki/Mánes_Bridge; https://is.cuni.cz/webapps/zzp/download/120304731&usg=AOvVaw1t96KvG_sH-ZgWpEByE0CD, https://cs.wikipedia.org/wiki/Richard_Klenka; https://de.wikipedia.org/wiki/Prager_Jubil%C3%A4umsausstellung_1891]

---