Holešovice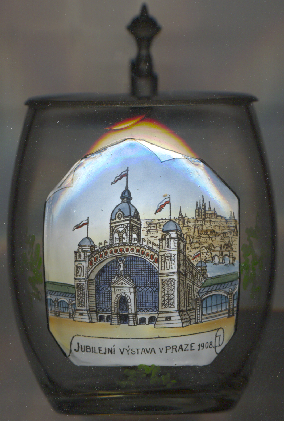 The

Jubilee Exhibition of the Commerce and Trade Chamber took place in the fair grounds of the Holešovice district in Prague in 1891, marking the 100th anniversary of the first Prague industry exhibition of 1791, which had been the first on the European continent. Another Jubilee exhibition took place here in 1908, marking the 60th anniversary of Emperor Franz Joseph I as a monarch. After the end of the exhibition most of the buildings were dismantled.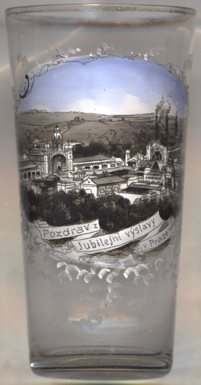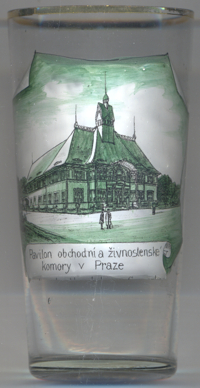 The

Palace of Industry (Průmyslový palác) [far left, no. 3968, and near left, no. 3857: background left] was created in Baroque revival style with elements of early Art Nouveau style by the architect Bedřich Münzberger. Its most prominent features were a steal arch construction with a length of 238 metres and a tower with a height of 51 metres. The building still stands today, just the entire left wing was destroyed by a fire in October 2008.
The building shown in the right background was the

machine hall (strojovna), the construction of which began in 1890.
Glass no. 3154 [right] shows a view of the

Pavilion of the Commerce and Trade Chamber in Prague (pavilon obchodní a živnostenské komory v Praze), one of the buildings created for the 1908 exhibition. The architect was Richard Klenka von Vlastimil (Klenka z Vlastimilu, Klenka of Vlastimil).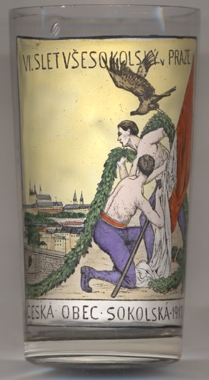 Glass no. 4055 [near left] is a souvenir from the

6th meeting (slet) of the Sokol movement, held in Prague in 1912. The Sokol movement as an all-age gymnastics organisation was founded in Prague in 1862 by Miroslav Tyrš and Jindřich Fügner. The movement also spread across all the regions populated by Slavic cultures, most of them part of either Austria-Hungary or the Russian Empire. Though officially an institution "above politics", the Sokol played an important part in the development of Czech nationalism and patriotism, which found expression in articles published in the Sokol journal, lectures held in the Sokol libraries, and theatrical performances at the gymnastic mass festivals called 'slets'. The 6th slet was the first that was named "All-Slavic" with over 30,000 Sokols attending and was held in a largely military atmosphere. A 14-hectare complex with grandstands for 100,000 spectators was arranged on the Letná Plain. The whole program was scheduled for five weeks.
The labeling on the glass reads VI. VŠESOKOLSKÝ SLET v PRAŽE / ČESKÁ OBEC SOKOLSKÁ 1912 (6th All-Sokol Meeting in Prague / Czech Sokol Village 1912).

[http://en.wikipedia.org/wiki/Prague, http://en.wikipedia.org/wiki/Charles_Bridge, http://en.wikipedia.org/wiki/Wenceslas_Square, http://en.wikipedia.org/wiki/National_Museum_(Prague), http://www.nm.cz/English/index.php, http://en.wikipedia.org/wiki/National_Theatre_(Prague), http://www.prague-info.cz/en/prague/monuments/st_nicholas_church_lesser_town, http://pubweb.northwestern.edu/~aro918/dictionary.htm, http://www.to-prague.com/prague_city_guide/monuments, http://en.wikipedia.org/wiki/Žižkov, http://en.wikipedia.org/wiki/Vyšehrad, http://en.wikipedia.org/wiki/Vyšehrad_cemetery, http://en.wikipedia.org/wiki/Czechoslovak_Hussite_Church; http://www.sberatel-ksk.cz/clanek-prazska-jubilejni-vystava-1908-2008050004; https://en.wikipedia.org/wiki/Mánes_Bridge; https://is.cuni.cz/webapps/zzp/download/120304731&usg=AOvVaw1t96KvG_sH-ZgWpEByE0CD, https://cs.wikipedia.org/wiki/Richard_Klenka; https://de.wikipedia.org/wiki/Prager_Jubil%C3%A4umsausstellung_1891; https://cs.wikipedia.org/wiki/V%C5%A1esokolsk%C3%BD_slet, https://en.wikipedia.org/wiki/Sokol]

---