| | |
| --- | --- |
| ČESKÁ REPUBLIKA | CZECH REPUBLIC |
| Olomoucký kraj | Olomouc region |
| Okres: Jeseník | |
map →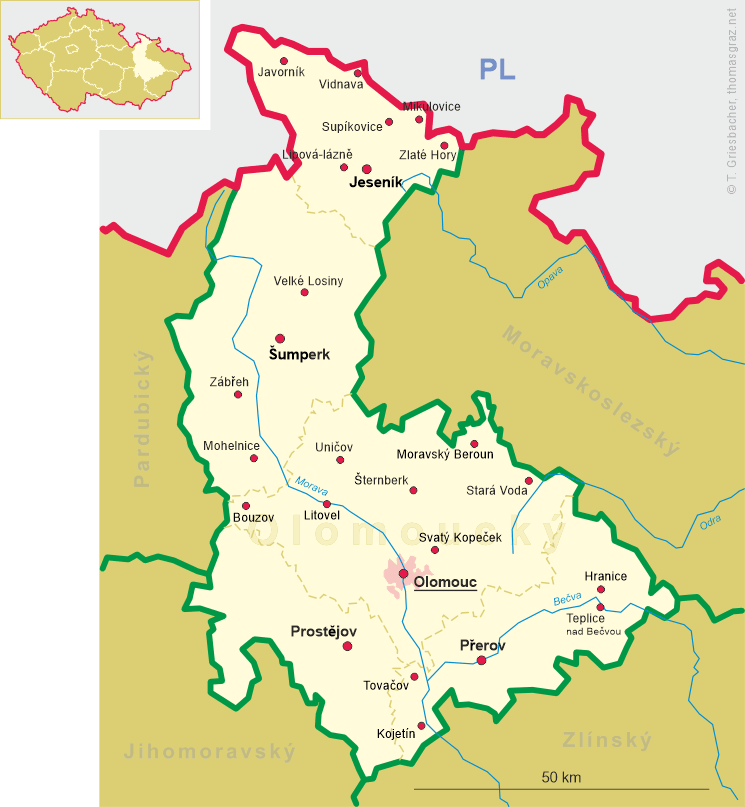 Mikulovice
• alt: Mikulovice u Jeseníku
• pl: Mikułowice
• de: Niklasdorf
Mikulovice is situated at an elevation of 420 m in the valley of the river Bělá at the northeatern edge of the Jeseníky mountains in the Jeseník district close to the border to Poland.
Villa Nikolai was first mentioned in a document of 1263. At that time the rivers Bělá and Olešnice were also used for washing gold. In 1907 the village obtained the status of a market town and the neighbouring community of Buchberg (Buchberk, now Bukovec) was incorporated into the new municipality (Markt Niklasdorf). In 1960, Kolnovice (formerly Kohlsdorf) and Široký Brod (Breitenfurt) were also incorporated into Mikulovice. Mikulovice obtained the status of a town in 1990.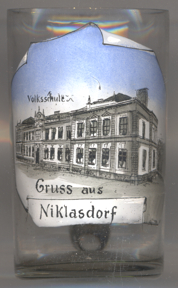 The picture on glass no. 1972 [left] shows the

parish church of St. Nicholas, which goes back to a church of 1550. The present church was built in Historicist style in 1903. Among the interior decorations is a relief plaque depicting the Crucifixion and the Four Evangelists from the second half of the 16th century. A Renaissance tombstone dates from 1605.
The picture on glass no. 3229 [right] shows the

municipal school (labeled in German: Volksschule). The original municipal school was founded in 1810 and enlarged in 1848 and 1872. The building shwn on glass no. 3229 [right] was built right next to the old school in 1901–1902. Further enlargements were made in 1921/1922 and 1924. During World War II, the school served as a military hospital in 1944 and later became a temporary refuge for German wartime refugees.
Other glass(es) in this collection from places with the same name: The previous German name Niklasdorf is also the name of Niklasdorf in Styria, Austria.

[https://de.wikipedia.org/wiki/Mikulovice_u_Jeseníku, https://en.wikipedia.org/wiki/Mikulovice_(Jeseník_District); http://www.mikulovicezs.cz/index.php/historie]

---