| | |
| --- | --- |
| ČESKÁ REPUBLIKA | CZECH REPUBLIC |
| Královéhradecký kraj | Hradec Králové region |
| Okres: Náchod | |
map →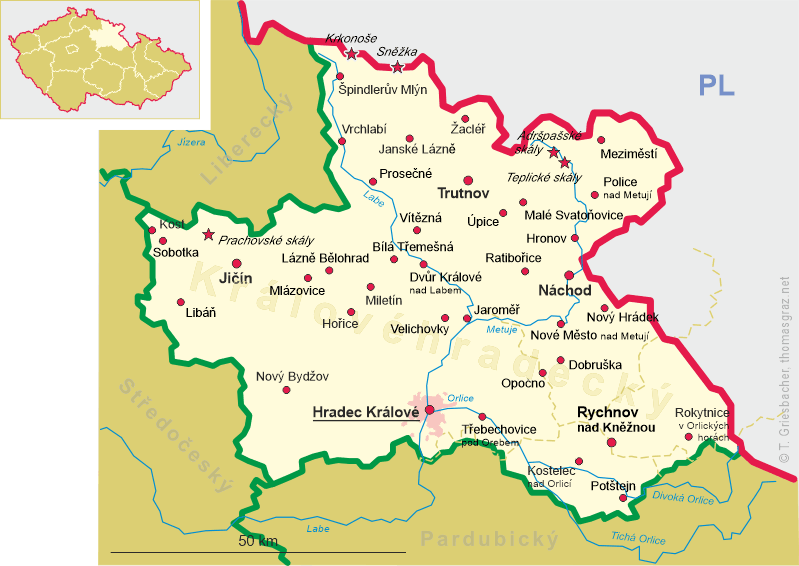 Police nad Metují
• pl: Police nad Metują
• lv: Police pie Metujas
• lt: Policė prie Metujės
• de: Politz, Politz an der Mettau
• sr: Полице на Метуји
• bg: Полице над Метуи
• ru: Полице-над-Метуйи
• uk: Поліце-на-Метуї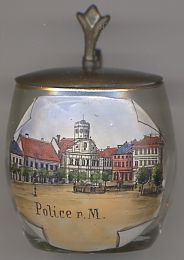 Police nad Metují (German: Politz an der Mettau) is situated at an elevation of 441 m at the river Metuje near the Broumovské stěny (Broumov Walls), about 17 km northeast of the district town, Náchod. The municipality of Police nad Metují has a population of about 4,100 (2017) and also includes the villages of Hlavňov (Groß Labnay), Hony (Hutberg), Pěkov (Piekau), Radešov (Radeschau) and Velká Ledhuje (Groß Ledhuj).
Several hermits settled in the local forest at the beginning of the 13th century. The first written record of the community is a charter dated 1213 (suspected of being a counterfeit but the date seems to hold), by which King Přemysl Otakar I donated the area to Břevnov Monastery (Prague). In 1253 the village obtained the status of a market town. Benedictines settled here to colonise the area. Around 1295 Police became the administrative centre of a domain the was administered by the provosts of Police. Monks from Police founded the monastery of Broumov in 1322. Police suffered heavy damages during the Hussite Wars (1419/1420–1434/1439) and during the Thirty Years' War (1618–1648). The monastery of Police was dissolved by Emperor Joseph II in 1785/86.
The

town hall of Police [centre] was rebuilt in Baroque style in 1718. The octogonal turret was added in 1842.

[https://de.wikipedia.org/wiki/Police_nad_Metují, https://en.wikipedia.org/wiki/Police_nad_Metují, https://cs.wikipedia.org/wiki/Police_nad_Metují]

---