| | |
| --- | --- |
| UNITED STATES OF AMERICA | |
| MASSACHUSETTS | |
| Barnstable County | |
map →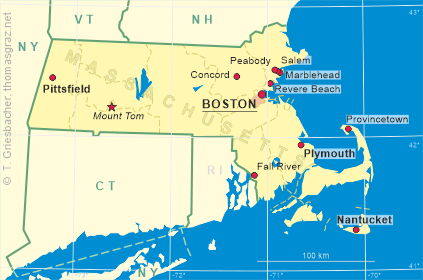 Provincetown
• bg, ru: Пиовинстаун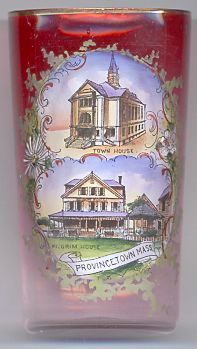 Provincetown is located at the extreme tip of Cape Cod in Barnstable County, Massachusetts. As of the census of 2000, Provincetown had a population of 3,431.
Cape Cod received its name in 1602. In 1620, the Pilgrims signed the Mayflower Compact in the harbor, agreeing to settle and build a self-governing community. Though the Pilgrims chose to settle across the bay in Plymouth, Provincetown enjoyed an early and strong reputation for its fishing grounds. The "Province Lands" were first formally recognized by the union of Plymouth colony and Massachusetts Bay colony in 1692, and its first municipal government was established in 1714. In 1727 the town was incorporated. The population of Provincetown remained small through most of the 18th century. Following the American Revolution, however, Provincetown grew rapidly as a fishing and whaling center. The population was bolstered by a number of Portuguese sailors who, hired to work on US ships, came to live in Provincetown. By the 1890s, Provincetown was booming, and had begun to develop a resident population of writers and artists, as well as a summer tourist industry. After the 1898 Portland Gale severely damaged the town's fishing industry, members of the town's art community took over many of the abandoned buildings. By the early decades of the 20th century, the town had acquired an international reputation for its artistic and literary output. The town includes eight buildings and a historic district on the National Register of Historic Places.
[Text adapted from en.wikipedia.org/wiki/Provincetown,_Massachusetts]
The

Town House [top picture] was built in 1885/1886 after a fire in 1877 had destroyed the old town house that stood upon High hill since 1854.
The

Pilgrim House [bottom picture] was built in 1781. In 1810 it became Provincetown's first hotel. Its Madeira Room was the venue for a rich variety of cabaret presenations in the 20th century, especially during the 1950s, Provincetown's golden age of cabaret. In 1990 the Pilgrim House was destroyed by arson. All that remained was the façade of the side of the original structure.

---