| | |
| --- | --- |
| SVERIGE | SWEDEN |
| län: Östergötland | |
map →
Motala
• lt: Mutala
• lv: Mūtala
• be, bg, ru, sr, uk: Мутала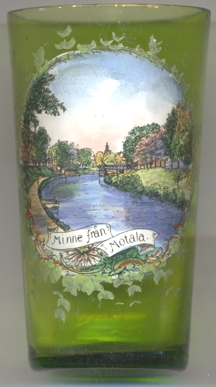 Motala is situated at an elevation of 85 m in Östergötland county on the eastern shore of Lake Vättern where the Motala river leaflows out of the lake. Motala has a population of about 29,800 (2005) and is the seat of the Motala municipality. Motala is located about 36 km northwest of Linköping, the capital of Östergötland, and about 195 km southwest of Stockholm.
Archeological finds made in 2000 show that the area was inhabited already about 8,000 years ago with most finds dating from the Stone Age and the Middle Ages. Motala was a small village through the centuries. King Gustav I Vasa had a manor house built at Motala. When the Göta Canal, which connects Göteborg (Gothenburg) on the Swedish west coast with Söderköping on the Baltic Sea, was built in the early 19th century, Motala became an important town for the trade on the canal. Motala Verkstad was the ship and steam engine industry, famous in large parts of the world. In the science fiction novel 20,000 Leagues Under the Sea by Jules Verne, the spur of the submarine Nautilus was built at Motala Verkstad. The builder of the Göta Canal, count Baltzar von Platen, has his grave by the canal in Motala. The town received a minor privilege when it became a köping (a market town) in 1823, with full city rights granted in 1881. With the municipal reform of 1971 Motala became seat of Motala municipality.
Another important episode of the Motala history began in 1927, when the Swedish national longwave radio broadcasting station was built here. The town marks the middle of a straight line between Sweden's two biggest cities, Stockholm and Gothenburg. Radio programs were transferred from studios in Stockholm to Motala by telephone wire. The call was "Stockholm-Motala". The transmitter operated on 191 kHz until 1962, when the transmissions where moved to Orlunda. Since 1991 there are no longwave transmissions at all of the Swedish Broadcasting Company, but from the transmitter Motala, which is a museum today, sometimes transmissions with low power occur, which may only be receivable in the area of Motala.
The oldest parts of

Motala church [near left, no. 2384] date back to the 13th century. The present church was added in 1772–1774. The church tower was built in 1844.

[http://en.wikipedia.org/wiki/Motala]

---