| | |
| --- | --- |
| FRANCE | FRANCE |
| région: Bretagne | Brittany |
| département: 35, Ille-et-Vilaine | |
map →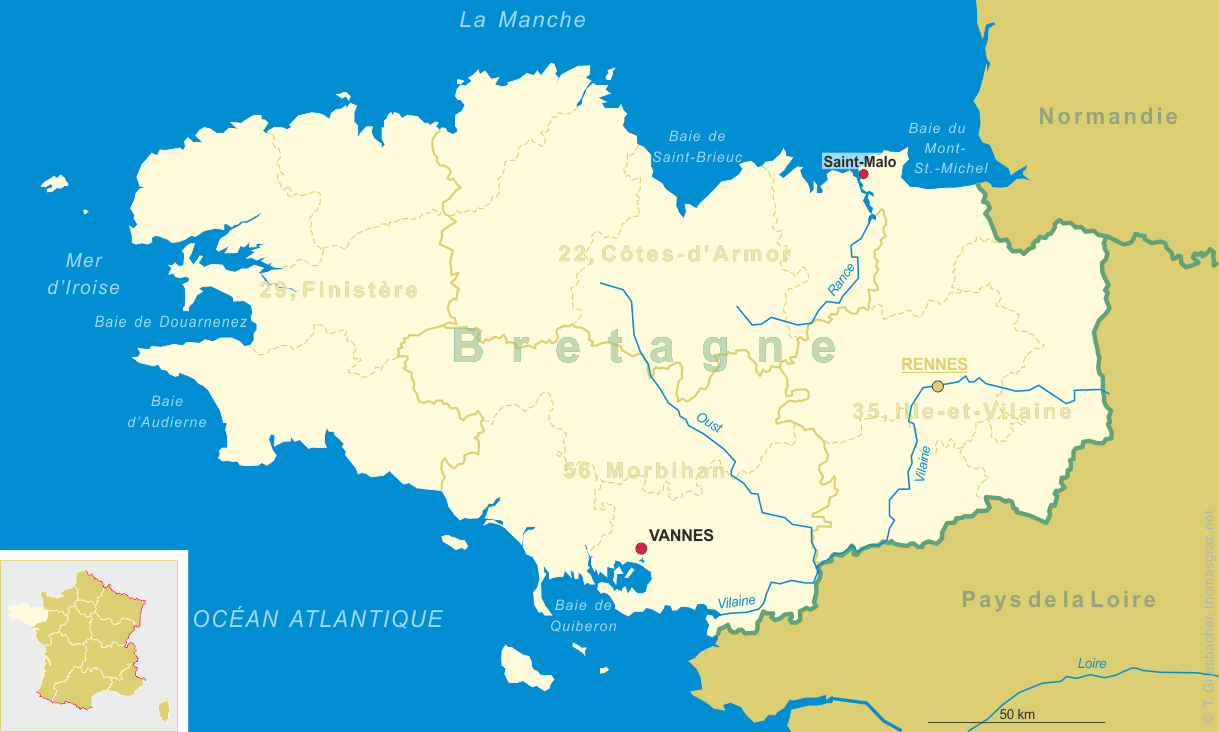 Saint-Malo
• bre: Sant-Maloù
• lt: San Malo
• lv: Senmalo
• el: Σεν Μαλό
• bg: Сен Мало
• ru, uk: Сен-Мало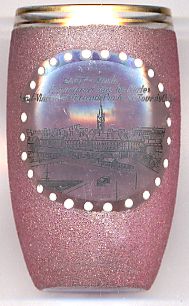 Saint-Malo is situated at the estuary of the river Rance, on the northern coast of the Bretagne. Saint-Malo is the capital (sous-préfecture) of the arrondissement Saint-Malo within the département Ille-et-Vilaine and is also the administrative centre (chef-lieu) of two cantons (Saint-Malo-Nord and Saint-Malo-Sud). The municipality has a population of about 50,700 (1999). Famous for its historical inner city and its fortifications, Saint-Malo is one of France's most visited tourist places.
During the Middle Ages Saint-Malo was a fortified island at the mouth of the Rance River, controlling not only the estuary but the open sea beyond. The promontory fort of Aleth, south of the modern centre in what is now the Saint-Servan district, commanded approaches to the Rance even before the Romans, but modern Saint-Malo traces its origins to a monastic settlement founded by Saint Aaron and Saint Brendan early in the 6th century. Its name is derived from a man said to have been a follower of Brendan, Saint Malo. From 1590–1594, Saint-Malo declared itself to be an independent republic, taking the motto "not French, not Breton, but Malouins". Saint-Malo became notorious as the home of the corsairs, French privateers and sometimes pirates. The commune of Saint-Servan was merged, together with Paramé, and became the commune of Saint-Malo in 1967.
[Text adapted from http://en.wikipedia.org/wiki/Saint-Malo]
The Bay of Saint-Malo features the Europe's largest tidal range: normally 12 metres, at times up to 16 metres. The well-known tidal power plant in the estuary of the Rance river was built between 1961 and 1967. It still is the largest of its kind in the world.
The

cathédrale Saint-Vincent-de-Saragosse [background centre] was formerly the seat of the bishop of Saint-Malo. This see was created in 1146 when Jean de Châtillon, bishop of Aleth, transferred his bishopric to the growing town of Saint-Malo on a more secure site across the river. The monastery of Saint Malo, founded in 1108, became the home of the bishopric and its church the new cathedral, replacing Aleth Cathedral. The bishopric was abolished under the Concordat of 1801 and its territory divided between the dioceses of Rennes, Saint-Brieuc and Vannes. The nave and parts of the transept date from the Romanesque period of the 12th century. The choir was rebuilt in the 13th century, the spire was begun in the 12th and finished in the 15th century. In the late 16th and early 17th century the north aisle was rebuilt and the north transept was enlarged. The tower was heightened in the 18th century, the façade was remodeled in neo-Classical style in 1772–1773. During World War II the church was damaged. The renovation works began already in 1944 and were completed only in 1972.
[Text adapted from http://en.wikipedia.org/wiki/Saint-Malo_Cathedral]

---