| | |
| --- | --- |
| ČESKÁ REPUBLIKA | CZECH REPUBLIC |
| Liberecký kraj | Liberec region |
| Okres: Semily | |
map →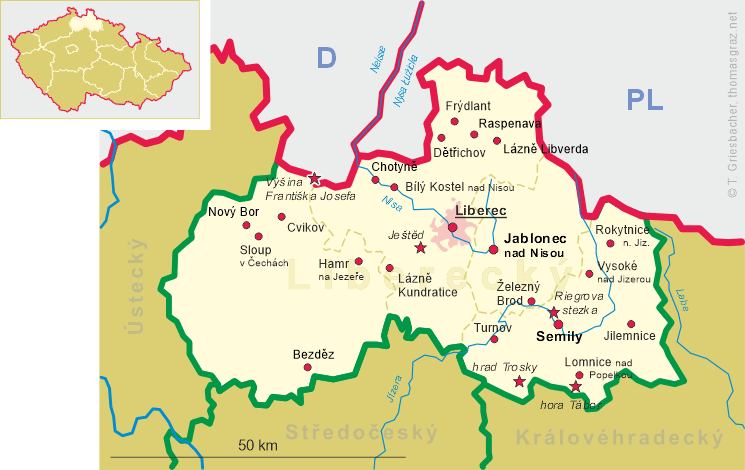 hora Tábor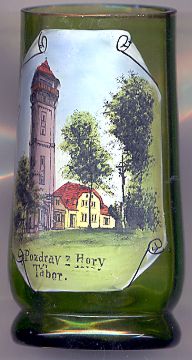 Hora Tábor (Tabor Mountain; 678 m) is located 3 km southwest of Lomnice nad Popelkou in the Semily district of northern Bohemia. The forested hill is the second highest elevation in the Český ráj (Bohemian Paradise) region.
The brick

lookout tower Tichánek keeps company to Hornych Lodge on the hill since 1911. The tower was named after its mastermind Josef Tichánek from Lomnice. The first, wooden, lookout tower erected on this site had been constructed already in 1888 and existed until 1897.
The

pilgrimage church of the Transfiguration of the Lord on Mount Tábor [near left, no. 4231: right] goes back to a Gothic chapel that was built in 1349. The present Baroque church was built in 1704.
This page is about the Tábor hill in northern Bohemia. There is also a page for Tábor in southern Bohemia.

[http://www.severnicechy.info/dr-en/lookout-towers-and-viewpoints/bohemian-paradise/lookout-tower-tabor.html; http://www.interregion.cz/turistika/vyhlidky_rozhledny/tabor/tabor_rozhledna.htm; https://de.m.wikipedia.org/wiki/Liste_von_Wallfahrtsorten_in_Tschechien, https://pamatkovykatalog.cz/kostel-promeneni-pane-na-hore-tabor-15891117]

---