| | |
| --- | --- |
| ČESKÁ REPUBLIKA | CZECH REPUBLIC |
| Liberecký kraj | Liberec region |
| Okres: Semily | |
map →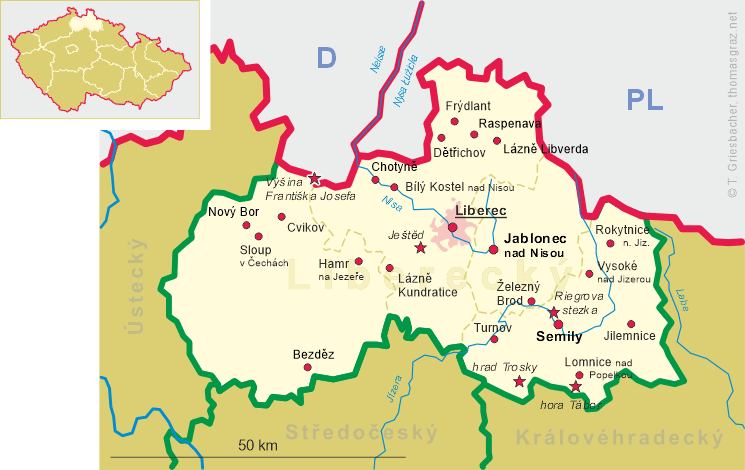 Lomnice nad Popelkou
• lv: Lomnice pie Popelkas
• lt: Lomnicė prie Popelkos
• de: Lomnitz an der Popelka
• bg: Ломнице над Попелкоу
• ru: Ломнице-над-Попелкоу
• sr: Ломњице на Попелки
Lomnice nad Popelkou (in German: Lomnitz an der Popelka) is situated at an altitude of 478 m on the river Popelka at the foot of the Tabor Mountain (hora Tábor) between the foothills of the Giant Mountains and the Ještěd–Kozákov Ridge, about 9 km southeast of the district town Semily and about 35 km southeast of the regional capital, Liberec. The municipality has a population of about 5,500 (2021).
The area was most probably colonised at the turn of the 12th and 13th centuries. The earliest known document mentioning Lomnice is the Old Czech chronicle of Dalimil from about 1308–1314, which refers to the invasion of the Tatars in 1242. The city owes its emblem to this event. The first documented owner was Albrecht von Wallenstein in 1308. Until 1918, the town was part of the Austrian monarchy (Austria side after the compromise of 1867), in the Semil (Czech: Semily) district.
The picture on glass no. 4231 [left] shows a view of hora Tábor (Tabor Mountain), located just 3 km to the southwest.
Another glass in his collection is a souvenir from Tatranská Lomnica, Slovakia.
[https://de.wikipedia.org/wiki/Lomnice_nad_Popelkou, https://en.wikipedia.org/wiki/Lomnice_nad_Popelkou, https://cs.wikipedia.org/wiki/Lomnice_nad_Popelkou]

---