| | |
| --- | --- |
| ÖSTERREICH | AUSTRIA |
| Bundesland: Niederösterreich | Lower Austria |
| Stadt: Krems an der Donau | |
map →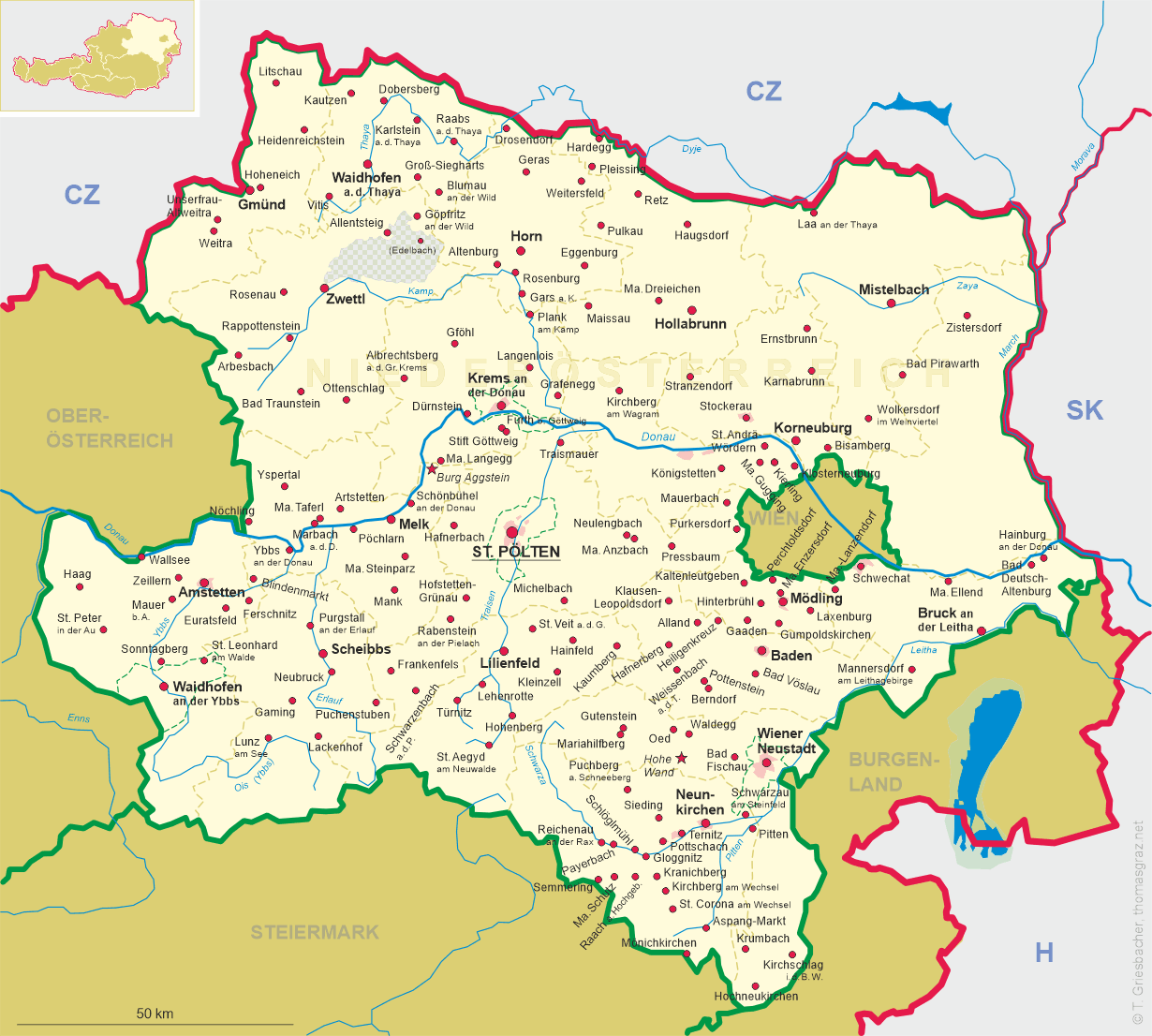 Krems an der Donau
• lv: Kremsa pie Donovas
• lt: Kremsas prie Dunojaus
• sk: Kremža
• cs: Kremže
• ru, uk: Кремс-ан-дер-Донау, Кремс-на-Дунае
• bg: Кремс на Дунав
• sr: Кремс на Дунаву
• be: Крэмс-на-Дунаі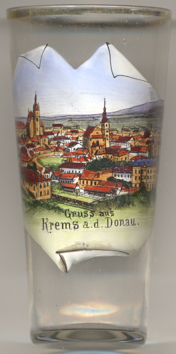 Krems an der Donau is situated at an elevation of 194 m on the left bank of the river Danube at the mouth of the (Lower Austrian) river Krems. Krems was first mentioned in a document of AD 995, while Stein was first mentioned in 1072. Krems and Stein are a rare example of a historical twin town. Both were separate towns but were administered together (until 1849). Krems became a parish in 1014, Stein in 1263. Krems became the site of the oldest mint in the Babenberg countries around 1130. In 1153, Krems was mentioned as an 'important town on the river Danube' on the map of the Arab geographer Idrisi. The oldest known charter of the double town Krems and Stein dates from 1305. In 1463 Krems received an own coat of arms (which is still used today) and also received the privilege for building a permanent bridge across the Danube. During the Thirty Years' War, Krems was occupied by Swedish troops in 1645/46. In 1683, the joint army for the liberation of Vienna assembled in the area around Krems, Stein and Mautern. The Battle of Loiben (near Stein) in 1805 between the joint Austrian and Russian armies and the Napoleonic troops was won by Austria and Russia, but Napoleon still won the war (Tolstoi later devoted ten pages of his book "War and Peace" to the description of these events). In 1837 the first steamship operated on the Danube, and in 1872 Krems was connected to the railroad system . The earlier wooden bridge across the river was replaced by a steel construction in 1896 (some repairs and additions were carried out after World War II, but most of the bridge is original and it is still in use today). In 1849/50 Krems an der Donau and Stein an der Donau were separated and for the first time in their history were two truely separate communities. This separation lasted until 1938, when they were reunited again. Today, Stein is a city borough of Krems an der Donau. In 2000 the historical towns of Krems and Stein were listed as World Cultural Heritage by the UNESCO. (see also list of other UNESCO heritage sites depicted on glasses of this collection)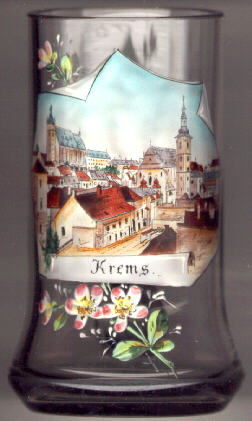 The

parish church of Krems (Sankt Veit) [right, no. 245: right] goes back at least to 1178, when the patronage of the church was mentioned for the first time. The oldest parts of the church (the lower parts of the tower) date back to the early 13th century. The church itself was completely rebuilt in early Baroque style 1616–1630. Most of the interior decorations date from the 18th century. The ceiling frescos were made in 1787 by the famous Martin Johann Schmidt (called Kremser Schmidt), the painting of the main altar was made in 1734 by Johann Georg Schmidt (called Wiener Schmidt).

The

Piaristenkirche (Kremser Frauenbergkirche) [left] stands on a place that probably is the site of the oldest documented church of Krems, which had been dedicated to St. Stephen. Since 1284 the church is documented as a Lady church, which was enlarged generously during the 15th century, even though it did not have the status of a parish church. The altar was consecrated in 1457, the consecration of the church took place in 1508. The building was then finally finished in 1514/1515. The late Gothic church is one of the most important edifices of that period in Lower Austria. In 1616 the church was handed to the Jesuits who were followed by the order of the Piarists in 1776. Most of the interior decorations date from the Baroque period. A number of altar paintings of the church also were made by Martin Johann Schmidt.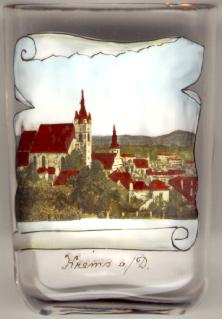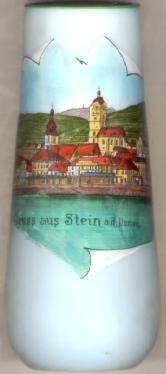 The

parish church of Stein (Sankt Nikolaus) [left, no. 474: left] was founded in 1263. Today's church dates from the mid-15th century. The upper part of the tower was added in 1714.
The

Frauenbergkirche in Stein [left, no. 474: right] was built around 1380 in place of the ealier church of St. Michael, which had been mentioned in 1081. The church was desecrated in 1785. After a restauration in 1963–1965 it serves as a memorial for the victims of both World Wars.
Ludwig Ritter von Köchel (1800–1877), who compiled the catalogues of the works of the composers Johann Joseph Fux and of Wolfgang Amadeus Mozart, was born in Stein.
Krems is also the former name of Křemže in southern Bohemia (while Kremže — with r rather than ř —  is the Czech name for Krems an der Donau.

---