| | | |
| --- | --- | --- |
| FRANCE FRANCE | | | SCHWEIZ / SUISSE / SVIZZERA / SVIZRA SWITZERLAND |
| région: Auvergne-Rhône-Alpes | | | Wallis / Valais / Vallese / Vallais |
| département: 74, Haute-Savoie | | | |
| | | |
| --- | --- | --- |
| ← map | Saint-Gingolph | map → |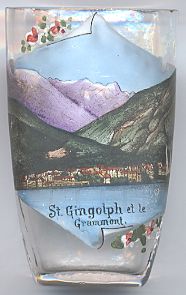 Saint-Gingolph is situated at an elevation of 376 m at the southern shore of Lake Geneva in the Chablais region, directly at the border between France (département Haute-Savoie) and Switzerland (canton Valais). The river Morge divides the village into the French and the Swiss part. The French municipality has a population of 626 (2004), the population of the Swiss municipality is 770 (2006).
The area was already inhabited during the period of the Roman empire. The name goes back to Saint Gangolph, an officer in the army of the Frankish king Pepin (Pippin) the Younger, the father of Charlemagne. St. Gangolph is supposed to have settled here in AD 755. The earliest written mention of the settlement Sanctus Gengulfus is found in a document of 1153. Since the 12th century, the village was subordinate to the Abbey of Abondance, about 15 km southwest of Saint-Gingolph. In 1536 the area was occupied by the troops of the Valais and of Berne. A treaty in 1569 moved the border of Savoy from the river Dranse (at Thonons-les-Bains) back to the river Morge, which caused the partition of the village between Savoy (today France) and the Valais (Switzerland). The neighbouring community of Novel (about 3 km to the south) was incorporated into Saint-Gingolph in 1973, but on 27 December 1982 retained its status as an independent municipality. Together with 15 other communities (including Novel) Saint-Gingolph is part of the Communauté de communes du Pays d'Évian (administrative seat in Publier).
Depicted in the background of the picture on glas no. 2464 is the

Grammont (2,172 m), a mountain in the Chablais valaisan (Switzerland).

---