| | |
| --- | --- |
| FRANCE | FRANCE |
| région: Normandie | Normandy |
| département: 14, Calvados | |
map →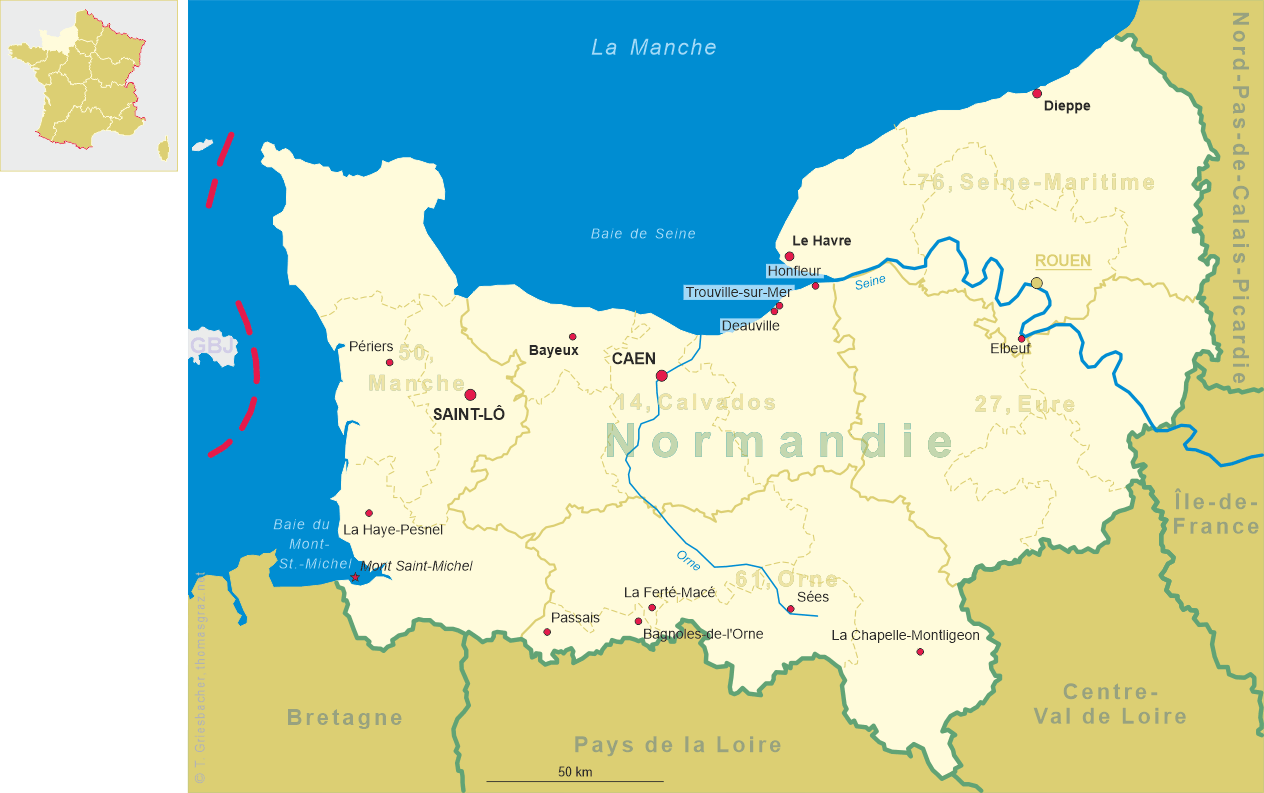 Trouville-sur-Mer
• lv: Truvila
• lt: Truvilis
• el: Τρουβίλ
• sr: Трувил сир Мер
• ru: Трувиль-сюр-Мер
• uk: Трувіль-сюр-Мер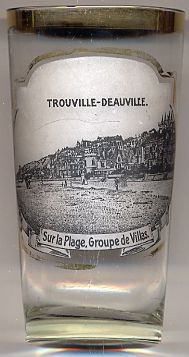 Trouville-sur-Mer is situated at the Manche (English Channel) coast in the département Calvados, on the right bank of the river Touques, about 200 km northwest of Paris. The municipality has a population of about 4,900 (2007). Also depicted on glass no. 2679 is the neighbouring spa town of Deauville.
In contrast to neighbouring Deauville, which was founded only in the 19th century on a regular ground-plan, Trouville-sur-Mer has developped historically, originally as a fishing village. Even after the foundation of Deauville, Trouville could not attract tourists until the opening of the casino in the very late 19th century. Gradually, the town became more and more popular, resulting in the construction of numerous splendid villas. A pier, today long ago demolished, was built for English tourists arriving with the ferry from Le Havre. The 'Les Roches Noires' ('The Black Rocks') was one of the most popular hotels; the famous writer Marguerite Duras once owned an appartment there. The villa 'Les Muriers' ('The Mulberries') once was owned by Geneviève Straus, daughter of the composer Jacques Fromental Halévy, wife of Georges Bizet; the villa today is owned by actor Gérard Depardieu.
The part of the Côte Fleurie ('Floral Coast') between Trouville and Honfleur (Côte de Grâce) is considered the cradle of Impressionism. It was a favourite place of work for painters like Eugène Boudin or Claude Monet.
[https://de.wikipedia.org/wiki/Trouville-sur-Mer]

---