| | |
| --- | --- |
| ROMÂNIA | ROMANIA |
| județ Vâlcea | Vâlcea County |
map →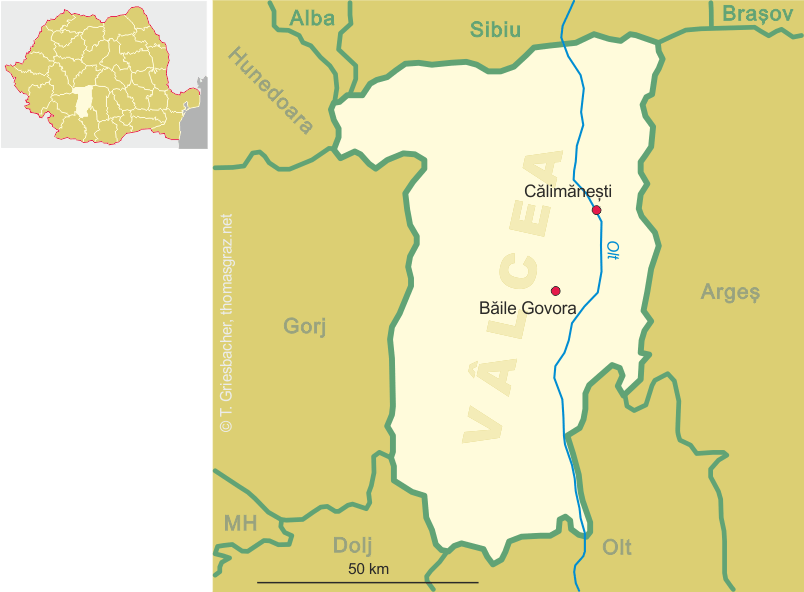 Călimănești
• uk: Келіменешті
• ru: Кэлимэнешть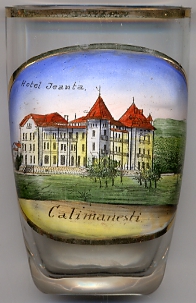 Călimănești is situated at an elevation of 280 m in the Olt river valley in Vâlcea County, about 15 km south of the count's capital, Râmnicu Vâlcea. The municipality of Călimănești has a population of about 8,800 (2007), which includes the villages of Căciulata, Jiblea Nouă, Jiblea Veche, Seaca and Păușa.
Archeological examinations showed that the area had been inhabited already in Neolithic times, the Bronze Age and the period of the Dacians. the latter were conquered by the Romans who in AD 137/138 founded a fortress named Arutela. The mineral springs of the area were already known in the Middle Ages. The oldest written document that mentions Călimănești dates from 1388 and refers to the nearby monastery of Cozia. In the early 19th century, Călimănești became a popuar spa town. The mineral waters from Căciulata (today part of Călimănești) were awarded a prize in 1873 at an international fair (Weltausstellung) in Vienna, which further promoted its popularity. The first modern spa facilities were opened in 1882–1884. In 1927 Călimănești obtained the status of a town.
Glass no. 2802 [left] shows a view of

Hotel Jeanta.
[https://de.wikipedia.org/wiki/Călimănești, http://en.wikipedia.org/wiki/Călimănești]

---