| | |
| --- | --- |
| ČESKÁ REPUBLIKA | CZECH REPUBLIC |
| Plzeňský kraj | Plzeň region |
| Okres: Rokycany | |
map →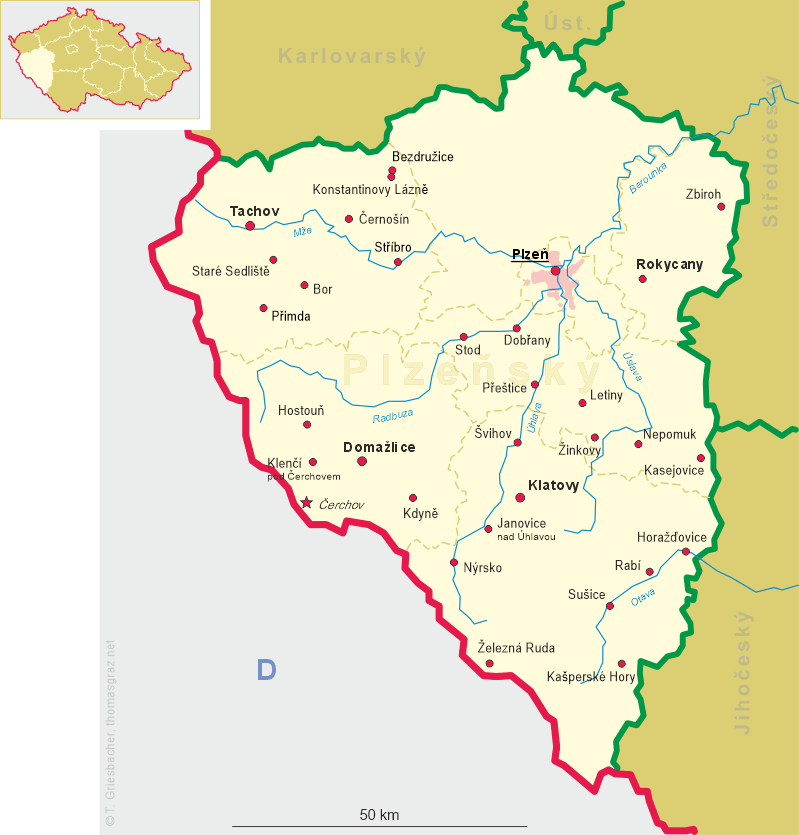 Rokycany
• lt: Rokicanai
• lv: Rokicani
• de: Rokitzan, Rokytzan
• el: Ρόκιτσανι
• bg, mk, ru, sr, uk: Рокицани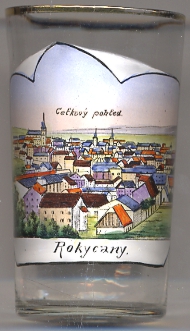 Rokycany is situated at an elevation of 362 m about 19 km east of Plzeň in West Bohemia. Rokycany is the seat of the administration of the district of the same name. The municipality has a population of about 14,000 (2014).
Rokycany originated in the 12th century as a village owned by the bishops of Prague. In 1406 it was chartered as a town and flourished due to its location at the 'Golden Road' that connected Prague and Nuremberg. After the Hussite revolution it first came in possession of local noble families but later was a property of the Bohemian Crown. In 1584 Rokycany obtained the status of a Free Roal Town, which, however, it lost during the Thirty Years' War (1618–1648). In 1784 the town was destroyed by a large fire and was rebuilt completely.
The picture on glass no. 2946 [left] is labeled ceľkový pohľed, which is a mix of Slovak and Czech, for 'overall view' or 'panorama' (in Czech correctly celkový pohled, in Slovak correctly ceľkový pohľad).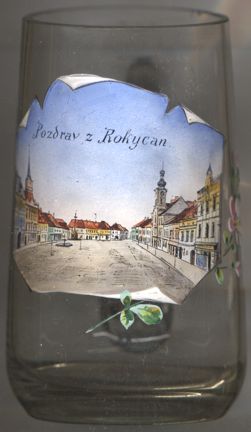 The history of the

parish church of Our Lady of the Snow [far left, no. 2946: background left, and near left, no. 4467: left background] goes back to the times of the foundations of Rokycany. In 1363 the archbishop of Pardubice founded an Augustine monastery, which was destroyed in 1421 by the Hussites. In teh 15th century, the church obtained the status of a deanery church. In 1784 the church was destroyed by a fire and was rebuilt until 1789 by Ignaz Ján Palliardi. The church tower in Empire style was added in 1821–1823.
The

town hall [near left, no. 4467: right], which in 1804–1808 was rebuilt in Baroque style after the large fire of 1784.

[https://de.wikipedia.org/wiki/Rokycany, https://en.wikipedia.org/wiki/Rokycany, https://cs.wikipedia.org/wiki/Rokycany; http://www.rokycany.cz/de/vismo/dokumenty2.asp?id_org=101084&id=1003&p1=1007]

---