| | |
| --- | --- |
| ÖSTERREICH | AUSTRIA |
| Bundesland: Niederösterreich | Lower Austria |
| Bezirk: Wiener Neustadt | |
map →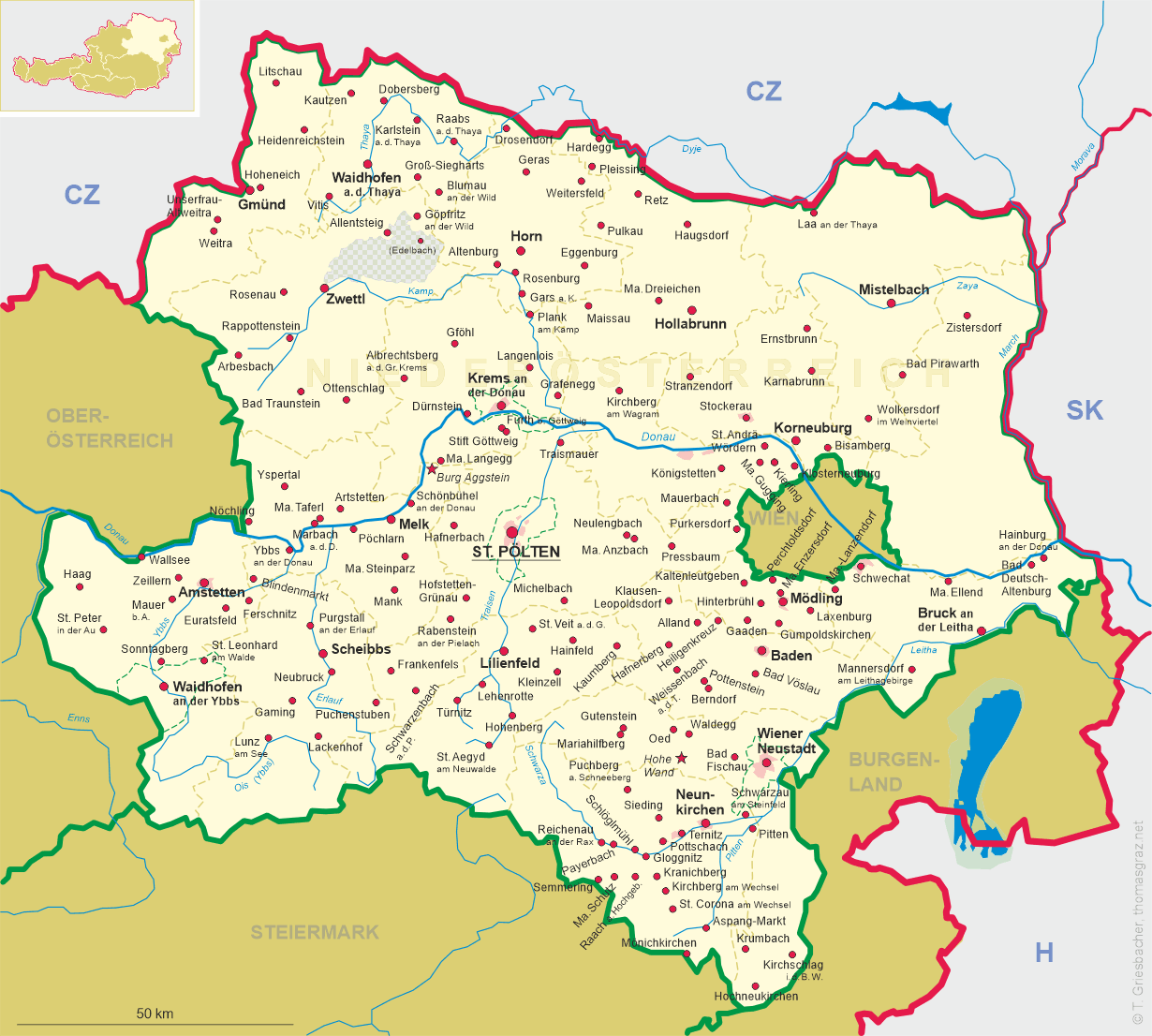 Hochneukirchen
• lt: Hochnoikirchenas
• ru: Хохнойкирхен
Hochneukirchen is situated at an elevation of 769 m in the Bucklige Welt region of Lower Austria, in the district Wiener Neustadt-Land. It is part of the municipality of Hochneukirchen-Gschaid.
Hochniuchkirche was first mentioned in a document of 1295. Before the formation of municipalities in 1854, Hochneukirchen was part of the domains of Krumbach. In 1970 the formerly independent municipalities of Hochneukirchen and Gschaidt were merged into the new municipality of Hochneukirchen-Gschaidt. On the occasion of the 700-year anniversary of Hochneukirchen the municipality received the status of a market town.
The

parish church of Sankt Bartholomäus [left] dates back to an older church of around 1300 of the late Romanesque and early Gothic period. The parish was first mentioned in a document of the monastery of Reichersberg dating from 1332. In the 1th century, a second tower was added at the eastern side of the church. Towards the end of the 15th century, the church was fortified by adding an upper floor with 15 loopholes and 13 peekholes. After a large fire in 1726 the eastern tower was not restored and was demolished. The remainning church was remodeled in Baroque style until 1787. The ramparts were demolished in 1897. A modern annex on the south side was added in 1982–1983. The former upper defense floor was remodeled and now is used for concerts and other cultural events.

[https://de.wikipedia.org/wiki/Hochneukirchen-Gschaidt; https://de.wikipedia.org/wiki/St._Bartholomäus_(Hochneukirchen)]

---